Advertisement
February 21, 2005 16:02 IST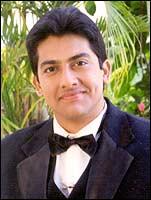 Aftab Shivdasani seems bewildered by the accusation that he was caught doing drugs at Pune's Fire And Ice hotspot on February 11. Apparently, he was at the night club with family and friends to celebrate a friend's birthday.
The actor was also accused of getting into a brawl at the venue and using friend and Maharashtra Chief Minister Vilas Deshmukh's son Ritesh Deshmukh's [Images] political contacts to revoke the club's license. Fire And Ice in Pune has now been shut down.
Aftab talks to Lata Khubchandani about his innocence.
I've been accused of doing drugs. I read this rubbish in the papers. I have an asthma problem so there has never been any question of my doing drugs in my life!
| | |
| --- | --- |
| | More on rediff.com! |
| | |
Next, they have said I had a brawl there and got the place shut down. I cannot imagine how they could have concocted something like that! I was there with friends and family celebrating my best friend's birthday. We had a good time and left. Their license seems to have been suspended and they're blaming me. I am not aware of their issues, whatever they are. Why should they involve me?

We are public figures, so they get mileage out of it. I have no idea why they have involved Ritesh Deshmukh's name in this. I am friendly with Ritesh the same way that I am friendly with my other co-stars. I don't what their problem is; what they get out of dragging me into it. I didn't even know that their license was suspended until I read about it in the papers.

I have met Ketan Kadam, the proprietor, a few times but I don't know him well.

The allegations are so baseless that I don't even know what explanation to give. I was with friends and family. Some fans asked for autographs and photographs and I had to oblige. I cannot be rude to them.

I can't understand why the press portrays us as the villains. Cant they understand that we are normal people? Actors can't be acting all the time. Why don't we ever get the benefit of doubt?

By unnecessarily bringing in Ritesh's name, they've put my relationship with him on the line. We have such a good equation. We are targeted because we are public figures.