Advertisement
February 18, 2005 16:23 IST


There is some sort of redemption at the end of the noisy, overheated and empty Constantine when Lucifer (Peter Stormare) meets with Constantine (Keanu Reeves [Images]), the devil chaser.

Though the confrontation is funny and simultaneously scary, it leads to a muddled and incoherent situation -- like most of the film before the scene. Even Lucifer fails to save this thoroughly confusing, expensive film whose only virtues seem to be its low-keyed but colourful visuals (specially the scenes of hell) and smart set design.
| | |
| --- | --- |
| | More on rediff.com ! |
| | |
Directed, with feverish energy, by music video director Francis Lawrence, Constantine could still have a devilish time at the box-office for the first two weeks at least.

Released in the Far East on Chinese New Year's Day, it grossed about $16 million in its first week in a handful of countries. There is enough theological mumbo-jumbo in the movie to set a debate for American audiences. There are also half a dozen bodies blown around and a few hair-raising scenes to keep viewers busy. But it is nowhere as shocking as The Exorcist, nor does it have the brooding atmosphere which made that an uncommon horror film.

One could come out of the theater wondering: What the hell was it all about?

From the great DC/Vertigo comic series comes a deeply faulted, chain-smoking and dying hero, Constantine, trying to find his salvation by using his gift to be able to detect demons and send them back to hell.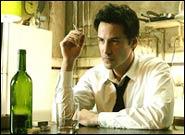 Here is an existentialist exorcist and demon chaser but the character is not dark enough or coherently intriguing to cast a spell on discriminating viewers. A reason for this, of course, could be that the originally compelling British character has now been dumbed down into a dark-haired American.
Besides, the complicated rules of the game -- involving demons, Lucifer, Gabriel (Tilda Swinton) and Constantine -- could confuse anyone but those familiar with the comics.
Several friends who have a good understanding of the source material said they could follow the plot to a certain extent, but certainly found the film shallow and were furious at Reeve's sleepwalking performance.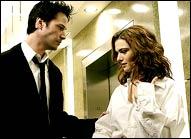 Early in the film Constantine encounters a cop, Angela (Rachel Weisz [Images] in double roles) who is trying to make sense out of the death of her twin sister in a psychiatric ward.
Angela is convinced her sister did not commit suicide and the discovery is important to her since she wants to convince the Catholic church to give the sister a church burial. Too bad the scriptwriters didn't read Graham Greene addressing this question in his great novel The Heart of the Matter.
The film had the potential of becoming a strong drama peopled by some truly interesting characters. But these characters, including young sidekick Chas (Shia LeBeouf) and an alcoholic priest

 

(Pruitt Taylor Vince) who has lost his capacity to exorcise, are not fully developed. Only the mysterious witch-doctor (

Djimon Hounsou) seems to have hold of the magic potion and leaves a good impression.