Advertisement
February 18, 2005 17:50 IST


Saurabh Shukla's Chehraa starts with the line, 'Agar zindagi ek kitaab hoti toh meri kahaani padna sabse aasaan hota.' Loosely translated, it means: 'If life is a book, my story's the easiest to read,' but I've never seen or heard of such a complicated life.

Megha (Bipasha Basu [Images]) is a college student, in love with her classmate Aakash (Dino Morea [Images]). One day, Megha disappears from college for the spectacular task of killing her father to save her mentally challenged mother.

Meanwhile, Aakash becomes a psychiatrist. Reena (Preeti Jhangiani [Images]), another psychiatrist, is a colleague in the same hospital.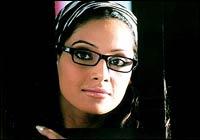 Megha returns after five years, as a patient, and Aakash and Reena are shocked to see her. Megha is married to Chandranath Diwan (Irrfan), a very rich drug addict. Megha claims she gets threatening calls and that somebody is trying to kill her. Predictably, she's clueless about who it could be.
Well, the story by itself feels like it could be gripping, but while enduring it in the theatre, the two-hour movie never seems to end. Every time your hopes are raised and you see the end in sight, there is a twist -- and it's such an idiotic twist each time that the film feels like pure torture.
Chehraa has too many loopholes. For example, when Bipasha calls Dino to ask for his help as she's just killed her father. The call is intercepted by Dino's dad, who doesn't want his son to marry Bipasha. He listens to the call but doesn't inform the police about the incident, and instead just tells her that his son has gone to the US!
The movie starts at a slow pace, and never actually grabs your attention. Despite its intentions, it is not a nail-biting thriller. Bipasha performs well, Dino is average as usual. Preeti and Irrfan are wasted in the film with small roles.
Overall, Chehraa isn't worth it. It is a waste of time.