Advertisement
February 17, 2005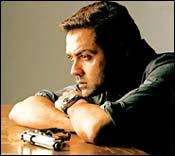 A

sk Bobby Deol [Images] how he would define himself as an actor and pat comes the reply, "I am a mixture of everything -- comedy, action, thriller and romantic roles. I have everything in me!"

Bobby admits, though, that he has been lucky with suspense and thrillers. His latest film, Jurm, is in the same genre. "But let me add that a good film works, irrespective of its genre," he says.

The actor chats with News Editor (Entertainment) Syed Firdaus Ashraf about Jurm and films.
| | |
| --- | --- |
| | More on rediff.com! |
| | |
It has been 10 years since your first film,

Barsaat, released.
Do you feel happy that people no longer identify you only as Sunny's brother or Dharmendra's [Images] son?
Definitely. I am very happy about this. I have reached a level where Bobby Deol is identifiable on his own.
But I still have a long way to go when compared to them. No actor can be satisfied with past laurels. I don't want to talk more on this because I don't want to sound pseudo.
How far does it help one's film career if his/ her family is from the film fraternity?
You will get your first release. After that, you must have talent and luck. Besides, only hard work pays off in this industry.
People say you get everything on a platter but there is also a drawback. People expect too much from you. There is always the fear of comparing your acting skills with your father, uncle etc. Even if you are good, people don't say it. Believe me, it is more difficult for an actor to prove himself if he is from a film family, as compared to an outsider in the industry.
If you are newcomer and even half as good, people will say you are amazing. On the contrary, if you are half as good and have your father's name tag, people will not praise your acting skills. Rather, they will compare you with your father.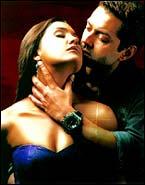 Are you playing a negative character in

Jurm?
I play a rich man in love with and married to Lara Dutta [Images]. I am obsessed with her and start doubting her. That's when things start going wrong in my life.
It is a Hindi film and a thriller. The story is such that I cannot say more on it. There are negative shades and it is definitely different from my other films.
Thrillers suit my image, so I hope this film works for me.
Yes, your thrillers are lucky for you.
All my films are same for me. I want thrillers, love, comedy and war films to work for me.
Why do you think your thrillers work more than your romantic films?
Every actor gets an image without wanting one. A lot of romantic heroes want an action hero tag but they are unable to succeed even though their films are good.
But I see the trend changing lately.
Good films will run and people will watch it irrespective of whether it is suspense or a comedy.
Are your expectations from Jurm?
You always expect. Sometimes, you feel you could have performed better if the film does not do well. We hope things click but the audiences are the final judge.
I am working with Milind Soman [Images] and Gul Panag for the first time, and for the second time with Lara [their first film together was Bardaasht].
Any favourite songs from the film?
Anu Malik [Images] has composed two songs and Anand Raj Anand has composed other songs. I love all the songs but my son loves Rabba rabba. That is my favourite too.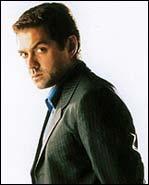 Is it true that Vikram Bhatt, producer Ashish Singh and you made a film in your school days?
Vikram and Ashish are my school friends. We've always wanted to be a part of this profession.
We made a film in school called Manav. That was like a workshop for us. Vikram directed it and Ashish and I starred in it. A copy is rusting somewhere in my cupboard, I think.
I always wanted to be an actor. My father inspired me since I was three years old.
We three friends have worked together and that is the biggest selling point of Jurm. Vikram and I even share the same birthday -- January 27.
What kind of roles would you like to take up?
I have done all kinds of roles -- comedy, action, romance and thrillers. Just name the genre and I've done it.
Action and thrillers have worked for me but my all-time favourite is Dillagi, directed by my brother Sunny. 23rd March 1933, Shaheed was another film I really enjoyed doing.
At present, I am doing Barsaat, a social love story costarring Bipasha Basu [Images] and Priyanka Chopra [Images]. I am also doing films with Imtiyaz Ali and Abbas-Mastan.
You seem to be promoting your cousin Abhay Deol, who's debuting in
Socha Na Tha.
Yes. I was surprised to know he was a very good actor. He has done a superb job in his debut film.
I wanted Ayesha Takia [Images] to debut with this film but, unfortunately, that did not work and Tarzan released first.
Your past films have flopped at the box-office, including

Ab Tumhare Hawale Watan Saathiyon.
(Interrupts) I don't want to talk about my past. It is over and I don't talk about that. Let us look at the future.
What do you think went wrong with

Bardaasht, your earlier film with Lara?
I don't know, man! It is the trend that keeps changing.
All I know is that I keep working hard and never get disappointed by my failures.