Advertisement
February 15, 2005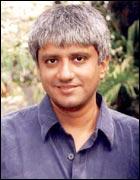 Vikram Bhatt has not had a hit for a while now, his last being Aawara Pagal Deewana in 2002.
His most recent release, Elaan, with Mithun Chakraborty making a comeback, also failed. His latest film, Jurm, stars school-mate Bobby Deol [Images].
News Editor (Entertainment) Syed Firdaus Ashraf met up with the director and found out what keeps him going in spite of his failures.
It has been almost three years since you had a hit.
This whole place is about retaining and attaining. When I started my career, I gave four flops, and then four hits, two flops, two hits, and then three flops. So hits and flops go on.
If a film does not do well, there is something wrong.
I think the stories were the problem with my films. Audiences are very forgiving and they don't really have a problem as long as they are entertained.
Maybe I have failed to entertain and that is a cardinal sin for an entertainer.
Now, I am trying to keep up to their expectations.
Producers invested in your films. Even the Tatas invested in your movies.
The Tatas may be big in the corporate world but they aren't big in films. If they put faith in me, I don't take it as an honour.
I feel a normal Hindi producer is bigger than the Tatas when it comes to the film industry. He knows more than the Tatas, so let us not give undue importance to the Tatas when it comes to films.
I try to keep up to my producers' expectations. Sometimes, I can; sometimes, I cannot. But let me tell you that I really try every time. No one is infallible. I am not the only director who has flopped.
Last year, there were 17 hits out of 200 films! That does not mean that 183 directors were bad. I am learning lessons every day.
A film like Footpath was very dark. It was wrong to release Khakee [Images] and Aetbaar on the same day. This was wisdom for me.
We are always learning things.
Films like Hum Tum [Images] and Murder did well last year. Do you in retrospect feel Indian audiences want different films and you are probably not making them?
Society is changing constantly, and changing faster than we think. Certain things that were not accepted earlier are being accepted now.
Earlier, it was not acceptable for boys and girls to be friends, but Kuch Kuch Hota Hai [Images] and Dil To Pagal Hai changed that.
Sexuality wasn't accepted in films but I changed it with Kasoor and Raaz.
You must understand that India has become a divided society. The metros are moving faster than the rest.
If you make a film for Bihar and UP, Mumbai audiences reject it and vice versa. This tells us our country is becoming bipolar. Multiplexes have made film viewing a foreign kind of affair.
It is difficult for any film to do great business all over India. Koi... Mil Gaya was the last such film.
Where would you project Jurm in such a scenario?
I place it in the A, B, and C centres! It is based on pure human drama. It will appeal to rural audiences because it has got a strong mix of emotions, and it will appeal to people in cities as well.
What do you think went wrong with Elaan?
I think the story went wrong. When a film goes wrong, stories go wrong -- that's it!
Some say casting Mithun was not good, some say the climax was not good. The audience isn't interested in anything but the story. If they like the story, they will come again.
The audience is the greatest teacher. When we start on a film, we don't want to make a flop. When a picture releases on a Friday and does not become a hit, it teaches all of us. It makes us think where we went wrong.
Sometimes, the audience likes the first half and not the second. If you don't keep up to audience expectations, the film won't work.
Audiences don't see your track record, but they go for good films.
Amitabh Bachchan [Images] gave 11 flops but the 12th worked because people liked Zanjeer.
Why don't you make love stories?
There are other people making them. When there are already 15 bhel shops, what's the point of the 16th?
So what subjects are you interested in?
I am more comfortable with the darker side of human beings. Maybe I am a dark person (laughs).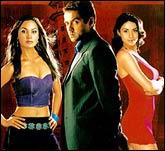 Tell us about Jurm.
Jurm is a love story and a suspense thriller. It is a thriller in terms of screenplay and narrative, and a love story because it has love gone wrong.
What is Bobby Deol's role in the film?
He plays a rich industrialist. He loves Lara Dutta [Images] and marries her. After marriage, he thinks his wife is hiding something from him. There is a tension between husband and wife, and Lara gets murdered. Bobby is arrested, but he says he is not the murderer. That is the brief of the story.
Why did this story appeal to you?
It is a very different kind of subject. I think it will make an enjoyable film, and the audience will love to watch it. It is Bobby's film, and has him in different shades. You keep wondering whether he is right or wrong in the film.
Any particular reason for the heroines in your film -- Lara Dutta and Gul Panag -- being former beauty queens?
Half the heroines in the industry are now beauty queens!
What are your future projects?
Rooh, with a new cast, and Deewane Hue Paagal, for Firoz Nadiadwala.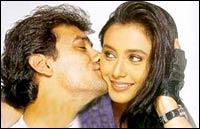 Did you ever feel your big budget films flop and smaller budget films work?
No. Awara Pagal Deewana and Ghulam [Images] were big budget projects, but successful. People don't see the budget; they come to see a good story.
When the media makes allegations on a personal level (His companion Amisha Patel [Images] and her family imbroglio), what do you do?
People allege what they want to. By trying to retort, you give them undue importance.
Newspapers are history, and forgotten the next day. If the allegation is not true, there is no point in giving importance to people.
How do you ignore it when people talk about you all the time?
You have to be insensitive. If you are in the media or in the film industry, or a public person, you must know everything you do is public property. You have to pay a price.
I can't ask people to write only good things about me. It isn't done that way. It's like a relationship -- you enjoy good times with her but have to bear her temper!
If the media praises me for Awara Pagal Deewana and Raaz, they have the right to criticise me too. They do that because they feel disappointed with me, because they expect something from me.
It takes a lot to become a topic of discussion; you have to work hard for it!(smiles)