Advertisement
February 04, 2005 16:37 IST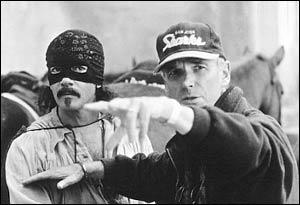 The wait is over. The film fans around the world have been fervently referring to as 'Bond 21' -- dispelling any illusions that spy fans could come up with a creative name to express the 21st film in the world's longest motion picture franchise -- has been announced, after much speculation.
Producers of the James Bond [Images] films Michael G Wilson and Barbara Broccoli have just stated basic details for the next film.
The film will be directed by GoldenEye helmer Martin Campbell, well known action director with films like Vertical Limit and The Mask Of Zorro under his belt already. The new Bond film will be an authentic adaptation of the 1967 spoof, Casino Royale, and the title will remain the same.
Wilson and Broccoli said: 'We are thrilled that Martin has accepted our offer to direct Casino Royale. He is an extremely talented director and we believe he will help take our films in a new and exciting direction. He is currently finishing filming The Legend Of Zorro, the sequel to The Mask Of Zorro, and will be joining EON Productions shortly to work on the development of the script with our writers, Neal Purvis and Robert Wade.'

MGM Vice-Chairman and Chief Operations Officer Chris McGurk said: 'Martin is an incredibly exciting filmmaker. GoldenEye was a wonderful movie and helped reinvigorate the Bond franchise. We're thrilled to have him back to direct the newest Bond.'

Casino Royale is scheduled to be released in 2006, but the bets are on further delays. Especially since the world's biggest casting decision isn't anywhere close to being made yet.