Home > Movies > Bollywood News

Jazz for Mr and Mrs Aamir

Lavleen | December 28, 2005 18:32 IST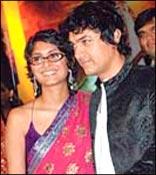 Aamir Khan and Kiran Rao, who are getting married on Wednesday, will depart for Panchgani on Thursday. The three-day wedding celebrations will be held at the hill station, some 300 km from Mumbai.
The reception will be held at the Il Palazzo hotel. Hotels Ravine and Basilica have been booked for guests.
A manager of Basilica said so far, 85 rooms in the three hotels had been booked. The reception will be held at Wai, near Panchgani.
Apparently, most of the wedding planning has been done by Kiran. She organised a musical festival at a private bungalow in Wai, featuring Sufi, Rajasthani folk, classical, ghazal and jazz music.
A fleet of six limousines have been booked to take Aamir's guests to Panchgani. Most of Bollywood's stars, including Shah Rukh and Salman Khan, are missing from the guest list. Rani Mukerji, a close friend of Aamir since 1998, will attend the wedding parties.
Kiran's family, including her parents, brother and relatives from Chembur, a Mumbai suburb, are currently staying at the house of one of Aamir's relatives, in Bandra.
Kiran, a student of Loretto House School, Kolkata, came to Mumbai in 1993 and joined Sophia College in 1994 where she completed her bachelors in economics. After that, she assisted director Ashutosh Gowariker in the Oscar-nominated Lagaan. That was when she first met Aamir.
The two met again on the sets of Swades (Gowariker's film starring SRK), in Wai.
Television actor Ronit Roy's security agency will provide security for Aamir's wedding. Not many know that Roy and Aamir have been friends since the early days of Aamir's career. Roy also provided security for Lagaan.
This is Aamir's second wedding. His first wife, Reena Dutta, was his childhood sweetheart. They were married in April 1986. They have two children together -- Zunaid (15) and Aira (10). Aamir and Reena divorced in 2002.
Aamir's father, Tahir Husain, seems one happy man. He claims it was Reena who encouraged Aamir to marry Kiran.
No surprise then, both the kids will attend dad Aamir's wedding.


What do you think about the story?








Read what others have to say:





Number of User Comments: 16








Sub: NO BEST WISHES

Hi Aamir, I will not congratulate you . I thought that you are very sensible and intelligent person. While watching one of your interview, you ...


Posted by SANGEETA









Sub: Congrats

Many congratulations to u on starting with a new life. Kiran really look slike ur kinda girl. Hope ui both a very happy life ahead.


Posted by Raina









Sub: wish u a happy married life

hi aamir u liked kiran its all ur choice we people dont have any right to interfeior in ur life. but people say all they ...


Posted by riya









Sub: CRAZY WORLD!!

aamir's image was totally different before, we percieved him as india's TOM HANKS....well, he has finally shown his true colors...that is ...he is no different ...


Posted by nobody









Sub: Wedding Wish to Aamir

The back & the ground story I hardly know as to why u took the very decision of divorcing Reena & getting wedded to Kiran ...


Posted by Anil Kumar Kucheria






Disclaimer