Advertisement
December 20, 2005 20:02 IST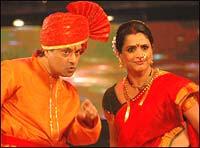 Sachin and Supriya bagged the Rs 50 lakh prize in Star One's celebrity dance competition, Nach Baliye. The grand finale, aired on December 15, saw the couple beat the runners-up, Manish and Poonam. When this reporter met the winning couple, they were relaxed, quite unlike what they seemed like a day before the show.
Your favourite Nach Baliye moments?
Sachin recalls the winning moment, "I went down on my knees and called out to lord Ganesha. My wife Supriya got very emotional and was looking at our daughter, Shriya. Mel (Melody, choreographer) started screaming and Al (their co- choreographer) was holding her."
| | |
| --- | --- |
| | More on rediff.com! |
| | |
The couple claims they were not nervous earlier, as people expected them to be. "People thought we were nervous, but we weren't. We were pretty relaxed, and prepared for any result because that was not in our hands. The performance was, and we did our best."

The finals, they claim, was difficult because they had to dance for six long minutes. "Usually, in the other episodes, we would dance for just two minutes. So, in this case, we were tense about forgetting our steps. There were a lot of questions in our minds. But, as soon as our performance was over, we were relaxed," says Sachin.

Meet the Nach Baliye finalists

Sachin gave his choreographers Mel and Al all credit for the performance because they knew the couple's strengths and weaknesses. "Nach Baliye was not just about married couples dancing. It was also about their relationship and chemistry. And we were successful because our choreographers were married."

Apparently, for a long time, Sachin and Supriya didn't even know that Mel and Al were married. After persuasion from Sachin, Al finally admitted to it. They hid the truth because they didn't like mixing their personal and professional lives.

Supriya claims that, not once during the competition, did she think she was dancing for the audience. "I was always doing this for Sachin. It was as if we were a real life hero-heroine singing for each other!" she exclaims.

Behind Nach Baliye

Meanwhile, Sachin admits that working with one's wife is not easy. "Wives don't have a problem working with their husbands, as they are very accommodating. But in these 16 weeks, I have not argued with Supriya even once because I didn't want to distract myself from my goal. Now that the contest is over, we will return to our normal lives."

Working under the choreographers also came easily to the couple. Sachin says, "I began my career as an actor and then became a director. For me to listen to someone else's instructions was not new. Al and Mel were very good teachers, and never lost their patience. They would argue among themselves sometimes, but never with us."

The team was generally handed songs by the channel. Only in special cases, when dancing to a particular song was difficult, did they ask for a change. Both swear that they never complained if another couple was getting a better song.

Nach Baliye, Folk style

When asked if they rehearsed up to eight hours a day, as rumoured, Supriya replies, "There were people who said we rehearsed a lot, which is why we won. But I would like to tell them that the reason behind rehearsing so much was that we needed the practice or we would have been eliminated in the first few rounds. We needed the stamina. Especially me, as I do not go to the gym."

Sachin-Supriya claim that that runners-up Poonam and Manish improved in their performances as time passed. But it was always Archana Puran Singh and her husband Parmeet Sethi who were their toughest competitors.

What will they do with the prize money? Mel and Al will spend their Rs 20 lakhs on a home loan. Sachin and Supriya plan to spend it on their daughter's education.

Supriya adds, "I think I will also spend it on my knee operation."

This week in Nach Baliye