December 20, 2005 17:20 IST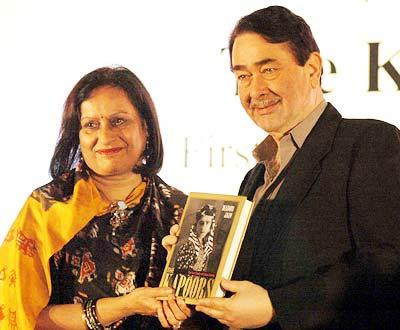 It's rather strange that Mumbai cinema's first family has never had a book chronicling its glorious saga.
Now, with the launch of The Kapoors: The First Family Of Indian Cinema, biographer Madhu Jain (left) aims to fill that gap.
The book was launched at the ITC Grand Maratha Sheraton in Mumbai on Monday night.
Five generations of Kapoors jostle for historical elbow room in the book, featuring everyone from Prithviraj Mughal-e-Azam Kapoor to Shammi yahoo Kapoor.
Now, with Kareena [Images] as one of the industry's most wanted leading ladies, Bollywood hasn't experienced a Kapoor-free decade yet.
As Randhir Kapoor (right) puts it, 'We are like the Corleones in The Godfather.'
Photograph: Arun Patil