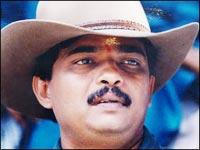 Jayaraj is a unique phenomenon in Indian cinema. Winner of several national and international awards, he continues to remain a nonconformist as far as the kind of films he makes. While serious filmmakers stick to a particular genre as a stamp of their individuality, he indulges himself in both 'crass commercial' as well as extremely thought-provoking films, puzzling critics as well as the general public.
Born in Kottayam in 1960, Jayaraj's interest lay more in films than academics. Like any other middle-class parents, his parents were alarmed. So, he was forced to join the College of Engineering, Trivandrum, where he obtained a degree in electronics and telecommunication.
'The challenge attracted me to Atbhutham'
| | |
| --- | --- |
| | More on rediff.com! |
| | |
This was when the new wave and parallel film movement in Kerala [Images] was at its peak. Film lovers in Trivandrum had the luxury of joining film societies and watching world classics at film festivals organised by them. Jayaraj was fortunate enough to watch many internationally-acclaimed films, one of which called Bicycle Thieves influenced him immensely.

With an engineering degree under his belt, he left for Chennai, not to hunt for a job as an engineer but to meet noted filmmaker, the late Bharatan. Bharatan and his wife K P A C Lalitha lived next to Jayaraj's sister. So, he decided to try that route to enter the film world. Impressed with the young man's passion for cinema, Bharatan made him Associate Director in his film Chilambu. Jayaraj went on to assist Bharatan in the next half a dozen films.

Jayaraj's debut as an independent filmmaker was with Vidyarambham in 1988, and he went on to make several forgettable films in the next few years. The only exception was 1993's Paithrukam with Suresh Gopi in the lead. The film drew a lot of flak from left oriented intellectuals of Kerala for its right wing philosophy, but was critically acclaimed.

Art direction a challenge for Atbhutham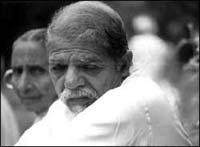 It was with his tenth film Desadanam in 1996 that he was looked upon as a serious filmmaker. It told the story of a 10-year old boy who was chosen to be a sanyasi. The film won many awards, including the state award for Best Director, and was invited for screenings at the Pesaro, Fukuoka, London [Images] and Shanghai film festivals. Most prestigious was an honour at the 1997 Karlovy Vary International festival.
Kaliyattam, in 1997, is a landmark film in Jayaraj's career. He used it to retell Shakespeare's Othello with the Theyyam festivals of north Kerala as a backdrop. He won the Best Director award at the national level, and Suresh Gopi, the protagonist, was named India's Best Actor that year.
Next came the first in the Navarasa series, Karunam (2000), a brilliant film that looked sympathetically and conscientiously at how old people in India were treated. The film tells the story of Chakochan and Chechamma, a lonely old couple with children abroad. The only person who gives them company is a neighbourhood youth. Life becomes more miserable for them when their children put them in an old age home. Chakochan dies there and the film ends with a lonely Chechamma walking into nothingness.
Atbhutham: A record-breaking bilingual?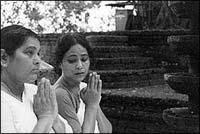 Due to paucity of funds, Jayaraj had made Karunam in 16 mm, but the director's commitment to the medium was discernible in each frame. The film won the 'Golden Peacock' award at the International Film Festival of India (2000) and the Kerala State award for best film. After Karunam won international awards, many filmmakers and artistes in Kerala asked Jayaraj to stop making 'commercial junk'. They felt it was high time he ended his romance with the commercial circuit and devoted his exceptional talent to serious cinema. But Jayaraj chose to make the 'crass commercial' Millennium Brothers next, releasing it on January 1, 2000.
Immediately afterwards, he made the second in the Navarsa series, Shantham, starring footballer I M Vijayan as the protagonist and K P A C Lalitha and Seema Biswas as two important characters. Shantham is the story of two young men, who grow up as close friends in the same village. As adolescents, they get drawn to rival political movements, both of which demand their loyalty and obedience. Finally, one of them is asked to kill the other in the name of the cause, and he does it. The victim's mother arrives at the Thirunavaya temple, on the banks of the Bharatha Puzha river to perform the last rites. The murderer's mother also gets there to share the other's grief.
Shantham won two awards at the national level that year; for best film and best supporting actress (K P A C Lalitha). For the first time in India, Ravi Varman, the cinematographer of Shantham, won the best cinematography award at the 23rd International Film Festival in France [Images].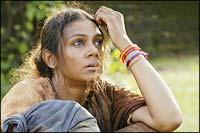 The third in the Navarsa series was Bheebhats, in Hindi, with Seema Biswas in the lead. Sadly, the film did not get the kind of attention it deserved.
Then came the hugely successful 4 the people, a cult film in Kerala but again, "crass commercial junk". It was followed by a sweet little film called Makalkku, featuring National award-winning actress Shobhana as a mentally deranged beggar who does not utter anything in the film except the word killeri. Suresh Gopi, his favourite actor, played the role of Dr.Warrier.
Then came more "junk", in the form of Rain, rain, come again, which failed miserably at the box office. His Daivanamathil, an offbeat film on communalism and terrorism, won a lot of critical acclaim though.
Now, once again, Jayaraj is producing and directing a film on his own terms. The fourth in the Navarasa series, Atbhutham, is being shot simultaneously in Malayalam and English. With this one, Jayaraj wants to create history. He plans to make the film in less than ten hours, a world record.
When asked how he can play Dr Jekyl and Mr Hyde while making films, Jayaraj says, "I enjoy both kinds of films. I make both kinds with the same passion and intensity." He agrees that he is more tense while making a commercial film like 4 the people though. "I am under tremendous pressure because I am making that type of film for the masses. I have to make them enjoy it. I have to convince them. If the masses don't accept a commercial film, it will be a big failure. Nobody knows what people like. Nobody has discovered that formula."