Home > Movies > Bollywood News

Asha Bhosle plans an R D surprise

Subhash K Jha | December 19, 2005 15:45 IST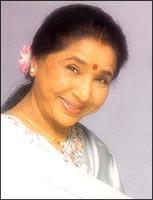 Barely a few weeks after a Grammy nomination for her collaboration with the American band Kronos Quartet, Asha Bhosle is all set to pay Rahul Dev Burman another homage.
And it is meant to commemorate the legandary Bollywood music composer's death anniversary on January 4.
"It's an album entitled Real RD. It features 21 of R D Burman's choicest numbers -- mostly rendered by Ashaji, with a few duets where Sudesh Bhosle will accompany her," reveals a source from Sa Re Ga Ma, the music company that owns the copyrights for most of Asha Bhosle's and RD's movie soundtracks.
A few months ago, Sa Re Ga Ma had gone all-out to promote the non-film album Asha, which contained Bhosle's version of classic ghazals.
Top 10 RD Burman songs by Asha Bhosle
Song
Film
 Chori chori solah shringar karungi
 Manoranjan
 Kabhi kabhi sapna lagta hai
 Ratnadeep
 Geet sunoge huzoor
 Rocky
 Phir se aiyo badra bidesi
 Namkeen
 Mera kuch samaan
 Ijaazat
 Dum maro dum
 Hare Rama Hare Krishna
 Tu jahan miley mujhe
 Doosri Sita
 Chura liya hai tumne
 Yaadon Ki Baraat
 Yeh saaye hain
 Sitara
 Jeena de yeh duniya
 Lava
What makes Real RD really special is that Asha will be re-interpreting the tracks, rendering the songs all over again to suit the techno-advancements in the new millennium.  

She had done new versions of R D's tracks some years ago in a well-received album called RD & I.

"Ashaji is going all-out to ensure that the sounds heard in this new album are just right. She has handpicked numbers that are both popular and unknown. There's so much of R D that needs to be discovered still. We're glad she is taking personal interest in further advancing the name of the single biggest musical genius of Hindi cinema," says the Sa Re Ga Ma source.

The album will be released on January 4, followed by a series of promotional concerts by Bhosle -- all over the world.





What do you think about the story?








Read what others have to say:





Number of User Comments: 2








Sub: Why only RD?

Why is only RD brought in the limelight, why aren't the other greats like SJ/LP ever written about??????


Posted by k









Sub: the RD effect !

Music composers usually maintain a music bank for future use. Pancham should have left many such tunes, what happened to them ? What are we ...


Posted by Shivaji






Disclaimer