Shibani Kashyap sends out rocking vibes in the livewire title number, Zinda hoon main. Hot. No, white hot!
Zinda is electrifying in intensity and gets you for good. The club mixes are aggressively pumped up, as opposed to the fairly docile lounge mix. If you thought her rendition of Waise Bhi Hota Hai Part II's Sajna was impressive, you will applaud her commendable gusto in Zinda.
Pakistani band Strings' Faisal Kapadia and Bilaal Maqsood are fine -- two of the best, in fact -- musicians as far as Hindi pop is concerned. Their Yeh hai meri kahani is a refined combination of captivating technology and profound creativity.
For this dramatic track, leading men Sanjay Dutt and John Abraham pitch in, dispatching trendy prose and dark philosophy.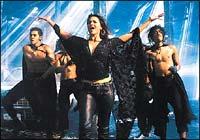 The K rap mix is of the song, however, is far too elegant and mystifyingly swinging to be dubbed rap. What then? Just throw your head back, let your body loose and slip into the electronic enchantment.
The next song, Har saans, is by Strings too, only they don't perform. Instead, it is singer Krishna blasting his rustic intensity all over the speakers. 
Did you enjoy the remixed concoction of Musafir's Zindagi mein koi kabhi? Then prepare for a throbbing dose of Har saans' pulsating Black Mamba mix.
It's been a while since Vinod Rathod's soaring baritone wielded the microphone. Refreshingly stylish and effectively staged by MTV Veejay Nikhil Chinapa and DJ Nawed, Maula -- the original as well State of Grace mix -- has its winning moments.
Kailash Kher really knows to assert himself. So, when he cries Chal rahi hain saanse in anguish, he gets heard. And how.
In an interview to a Mumbai publication, director Gupta called Dutt his Bob Dylan. For most Dylan fanatics, that amounts to blasphemy. Anyway, if you are expecting another spicy Tez dhaar (Musafir), hard luck! The actor sounds out of sorts in Vishal-Shekhar's desolate composition, Kabhi muskurake ke.
Zinda's music resonates your senses and lets you unwind. Check it out. You won't be complaining.