Advertisement
December 14, 2005 13:52 IST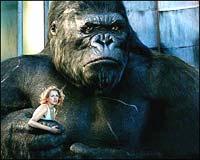 The roar you hear in thousands of theatres showing King Kong across the world will  not come from the giant ape alone.

Expect millions of viewers to give a giant stadium kind of roar as the mighty King Kong appears some 70 minutes into the three hour-long marvel of an entertainment and starts fighting T-Rex and other strange, giant creatures, while holding his blond captive firmly in his palm.
Expect audiences to put away their popcorn buckets and be seized by one thrill after another.
And don't be surprised if viewers wipe a tear or two as the big ape is trapped atop the Empire State Building and the blond tries to save it.
But don't think for a moment that the great reactions the mighty King Kong produces are all due to technology.
For the highly talented Andrew Serkis -- whose body movements created Gollum, the slimy creature in King Kong director Peter Jackson's epic The Lord Of The Rings trilogy -- 'played' the title character. His facial and body movements were used to animate King Kong.
| | |
| --- | --- |
| | More on rediff.com! |
| | |
At times gently amusing, often uproariously playful, many times deeply touching and for over 30 minutes filled with combat between the giant ape and gigantic creatures, the newest avatar of King Kong writes movie history.
A soul-stirring drama, it moves leisurely for the first hour as it unfolds the story of a reckless, greedy conman of a movie producer (Jack Black), his captive writer (Adrien Brody) and the would-be lead actress of his film (Naomi Watts [Images]). 
Even this part of the film is filled with wonderful moments and visuals which are at times lovely, and at times eerie, and for those who have seen the pictures of Depression era New York in Life magazine and history books, highly evocative.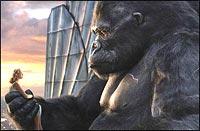 The film which opens on some 7,600 screens in North America today, December 14, will play on at least 13,000 screens worldwide by Friday.

With his The Lord Of The Rings trilogy, which grossed over $2.5 billion in theatres worldwide, Jackson, 44, has proved to be even more sensational achiever than Steven Spielberg [Images], with three giant hits in a row.
And now with a film everyone expects to be a huge hit, he would further consolidate his status as one of the smartest and most imaginative filmmakers of all time.
The king size question is how big a hit his newest extravaganza will be?

Click here for more on Arthur J Pais' exclusive review of King Kong