Home > Movies > Reviews

Rang De Basanti's music works

Sukanya Verma | December 12, 2005 18:38 IST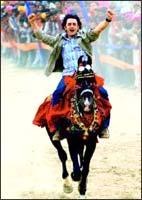 A favourite cliché associated with A R Rahman's music is that it takes time to grow on its listener. Perhaps in this day and age of 'fast-food' music, that's too much to ask for. But why not look at it a little more optimistically? That at least one composer stills wants you to soak his tunes in, rather than just twiddle your toes to it.
So, let me warn you upfront, if you are looking for elevator music to dance to, you're barking up the wrong tree.
While most of his contemporaries are interested in nailing the charttopper slot or remixing their own fare, Rahman makes more music and less sound. It is hardly surprising, then, that when a producer nabs him for a project, he makes the most of it.
| | |
| --- | --- |
| | More on rediff.com! |
| | |
In UTV's Rang De Basanti, the composer helms ten songs penned imaginatively by Prasoon Joshi. Directed by Rakeysh Ompraskash Mehra (Aks), the movie features Aamir Khan, Soha Ali Khan, Atul Kulkarni, R Madhavan, Sharman Joshi, Kunal Kapoor and Siddharth. Though not really a jingoistic affair, Rang De Basanti, as the graffiti on the CD cover suggests, is about today's generation and its responsibilities. 

 
In Mangal Pandey fashion, the soundtrack begins on a devotional note with the Gurubani prayer, Ek onkar rendered stirringly by Harshdeep Kaur.
Spiritual makes way for effervescence in the booming, adrenalin charged, Rang de basanti. You can count on the Punjabi Pop King Daler Mehendi to scoop catchy Tunak tunaks and Ta ra ras from nowhere. Here, his Dingading is as infectious as it gets. Co-singer Chitra is a shrill match to the bhangra star's thrilling vivacity. This potential chartbuster is a Daler show all the way.
Welcome to fun school! Paathshala is a rock 'n' roll take on academics, or the lack of it. Rahman's arrangement here is somewhat reminiscent of Lakeer's Shehzade and Yuva's Dol dol, only less melodic and more bombastic. The Be a rebel version of the same by Blaaze is incomprehensible in the lyrics department.
Stimulating in essence and subtly haunting, Tu bin bataye has Madhurshree and Naresh Iyer delicately coo to the eccentric yet enchanting strains.
A tad U2ish in flavour but essentially a desi Arabic cocktail, Rahman and company -- Aslam and Nacim (he has also written the Arabic lyrics) -- gyrate nimbly to the exotic beats of Khalbali. Why are most songs with a middle-eastern flavour so stereotypical in nature? Like the quintessential Goan bloke and his accordion?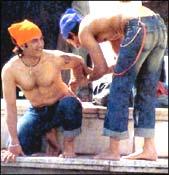 Khoon chala brews in blazing poetry and quiet drama. A controlled, powerful composition, expounded beautifully in Silk Route frontman Mohit Chauhan's commanding intensity.
Tired of hearing Lata Mangeshkar playback for 16-somethings? The legend and her innumerable fans get a much-needed break in Luka chuppi. Oozing maternal instinct and worry as in the nature of a true blue mommy, Mangeshkar plays her part well. Okay, so there are times when she struggles to find ground. But, on such occasions, Rahman also co-starring on the track cleverly underplays her jarring high pitch by shifting the focus to the exhilarating orchestra.
Revolutionary Ramprasad Bismil's patriotic verse, which has found its voice in many aspiring nationalists, comes to the forefront once again after the Bhagat Singh movies. This time as Lalkaar in Aamir Khan's ardent and inspiring delivery.
Finally, the verve in Rahman and Iyer's voices, coupled with the jingling mood and bouncy guitar play, give Roobaroo the feel of a picnic.
What's the soundtrack of Rang De Basanti like? Flawed, but sonorous. Challenging, but genuine. Point is, it works. Correction. It grows.
Want to see this movie? Check out Rediff Movie Tickets!


What do you think about the story?








Read what others have to say:





Number of User Comments: 46








Sub: ilayaraja's album (needed)

if any body having ilayaraja's album named as HOW TO NAME IT and NOTHING BUT WIND pls send an url for this album


Posted by sureshkumar









Sub: Rubaroo is superb!

The most buityful song of the RDB,s. In this song every bu


Posted by Santhosh









Sub: about aamir and rdb

it is good to see that a total commercial movie is making the people to think otherwise it is immpossible to imagine that the crowd ...


Posted by shubham









Sub: Nice music!

Just wanted to put few words on music. At first you won\'t like this music. See the movie and then listen to it. You will ...


Posted by beautiful_mind









Sub: Ya... Cool Music...

Real Punjabi music with a real good flavor of western beats. Wonderful composition of roobaroo song... A R Rahman is awsome. Keep giving the music ...


Posted by Santosh






Disclaimer