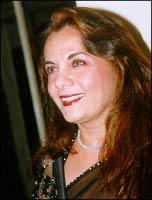 Remember how Steve Martin went insane arranging his daughter's wedding in Father Of The Bride? Mumtaz Madhvani is in similar mode.
The former actress and wife of UK-based business tycoon Mayur Madhvani has her hands full preparing for her daughter Natasha's marriage to Fardeen Khan [Images]. The Madhvanis and Khans have chosen Grand Hyatt, Mumbai, as the venue for the wedding on December 14, and reception on December 16. Mumbai's JW Marriott will host the pre-wedding events like mehendi and sangeet on December 13.
"We are going through a mad rush," Mumtaz tells rediff.com in an interview, impatience in her tone. "We are up to our necks. I wish I had 10 hands and were blessed with 48 hours a day! Work just does not seem to end."
She seems peeved at the mobile network in India. "It's getting increasingly difficult to be in touch with people," she complains. "I couldn't even get through to Natasha this afternoon. When I last heard from her, she was trying out a few dresses. Her mobile has died since then."
| | |
| --- | --- |
| | More on rediff.com! |
| | |
What concerns her most is if invitations have reached all guests.
Mumtaz does not seem happy about the fact that the Marriott hall can accommodate just 1,400 people. "We (my husband, Feroz Khan, Fardeen and Natasha) had a tough time preparing the guest list. I wish the hotel could accommodate more. 1,400 split among the five of us is too small a figure." As for security arrangements, the former actress informs that friends and relatives are looking into that. 
Amid this roller coaster ride, Mumtaz is lucky not to have to worry about her daughter's post-marital life. "We have known Feroz's family for years. Natasha and Fardeen knew each other from childhood," she reasons. "Both families have always been very close. For Natasha, marriage means moving into her second home."
How does it feel to have one of her co-stars as sambandhi? "It's a wonderful feeling!" Mumtaz exclaims.
She continues, "I have been a homemaker after bidding Bollywood adieu and, therefore, been a caregiver to my family. I couldn't join my husband's business as, according to my father-in-law's unwritten convention, women of the house aren't allowed to meddle in the family business. We (Natasha and I) are very close and her departure will make my world look empty. It will take me some time to get used to it."
The fact that Natasha will have to move to India does not bother her. "I left India after marriage and built a home in UK. If I could cope with the change, I am sure my daughter, who is a very strong person, won't mind making India her home. After all, the fun of living rests in uncertainties and unpredictable changes."
Does she have anything special to gift her daughter? "Nothing unusual," says Mumtaz, "apart from jewellery and clothing, the basic stuff a mother gives to her daughter on her wedding. As for family heirlooms, my husband has got some of my mother-in-law's jewellery for Natasha."