Home > Movies > Reviews

Watch Myth for Jackie Chan

Vipin Vijayan | December 09, 2005 15:48 IST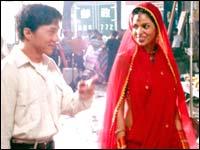 Jackie Chan -- the name that redefined martial arts after the death of Bruce Lee -- dishes out another good performance in his latest film, The Myth.
The 51-year old plays an archaeologist called Jack who, in his dreams, often sees himself as General Meng-yi of the Qin Dynasty, entrusted with guarding the Emperor and his queen. The film deals with the concept of past lives and the desire of science to unravel mysteries of the ancient Chinese civilisation. It also portrays feelings of intense love, sacrifice and valour.
Jackie, Mallika's Myth premieres in Mumbai
| | |
| --- | --- |
| | More on rediff.com! |
| | |
The script moves along well as director Stanley Tong (who also directed the popular TV series Martial Law) navigates the sequences from Jack's dreams to the real world.
The Myth has elements of typical martial arts-based cinema with the characters (excluding Mallika Sherawat, whom we shall discuss later) doing a lot of flying around. It also has a soothing background score. The climax has been beautifully picturised, loaded with special effects that, however, could have been better. For instance, in one of the shots, soldiers in the last row could be seen skating on the rugged terrain!
Chan, helping his friend in his research work into unravelling the mystery of defying gravity, finds himself in a temple of sorts. Though the movie does not name the location as an Indian city, a flying yogi and hundreds of followers look Indian. The locale used is a hilltop temple in Karnataka.
Jackie, Mallika promote Myth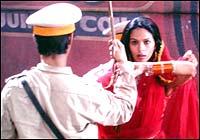 Jack's friend plays spoilsport and scrapes out a black stone from the head of what can be termed a Chinese version of Nandi, the bull. It turns out the stone is the source of power that enables people to defy gravity. All hell breaks loose as the flying yogi comes crashing down to the ground. And then, the Jackie Chan show begins.
Now, Mallika Sherawat, as everyone knows, plays a princess. Her costumes would give costumes in the Kama Sutra a run for the money. Despite the story revolving mainly around General Meng-yi and Empress Ok-soo (Hee-seon Kim), Mallika seems to have done justice to her role. She's also done her own stunts -- like kicking baddies while wearing a ghagra choli! It is a different matter that the length of the ghagra gets shorter as the fight progresses.
The Myth may not be a blockbuster, but Jackie fans won't have anything to complain about.
Mallika's Myth to premiere in Toronto
Want to see this movie? Check out Rediff Movie Tickets!


What do you think about the story?








Read what others have to say:





Number of User Comments: 3








Sub: The Myth's unanswered Questions

I thought the movie was a pretty good film, and I definitely believe Jacky Chan did a great job play both roles (not to mention ...


Posted by Rajesh









Sub: About MYTH

I am crazy to see my favourate star Jackie Chan in his lattest movie MYTH. No one will get bored with his film, he got ...


Posted by Anil









Sub: myth

i've been reading a lot about the movie Myth,in articles by journos in "bollywood",they seem to be picking on Mallika,(her role is short.Her costumes and ...


Posted by balaji cousik






Disclaimer