A week ago, rediff movie critic Raja Sen chatted live from Goa, where he was covering the IFFI film festival 2005.
Now back in Mumbai, he touched base with rediff readers on Tuesday, kicking off a regular Tuesday night chat series. The conversation ranged from Mangal Pandey to Batman Begins. Here are some excerpts:
Raja Sen : Hi guys, let's start.What's up with all of you?
---
Princess : hey, is that *the* raja sen? in flesh and blood, forsooth (to quote his favourite word)?
Raja Sen : :) have I really used it that often?
---
psa : Hi Raja, from your last chat it seems you are quite impressed by Abhishek, which moview according to you was his turning point as far as acting is concerned?
Raja Sen : Hi psa.. I think he was quite good in films like Yuva and Naach. Since then, he's visibly developed confidence as an actor.

---
Princess : are you witty in real life too, raja, as you appear in your movie reviews?
Raja Sen : forsooth, princess :p

---
psa : Being a film journo yourself, how much similarity do you see in the "Page 3" movie and real life?
Raja Sen : Well, I think the film makes a couple of good points, but is drastically oversimplified. Thinks aren't as black and white as they are in the movie, and I'm personally nowhere near cynical enough to declare that journalism can't just be fun.

---
Aansh : Why did you choose entertainment as your section?
Raja Sen : I started by writing about Formula One, but my interests in cinema and rediff's entertainment-writer vacancy were fortunately well-timed.

---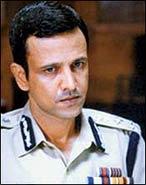 Sita : Who according to you is the coolest actor?
Raja Sen : Kay Kay Menon. I'm a huge fan.

---
K K : Which is the best movie of the year
Raja Sen : Ah, that's a tough one.. In terms of Hindi films, Iqbal ranks right up there.. As does Hazaaron Khwaishein Aisi.. what's your pick?

---
Princess : when does the great raja sen plan to make a movie himself?
Raja Sen : when he finds a greatly indulgent producer.

---
Ram : What do you enjoy the most in your job?
Raja Sen : After sitting through a horrendous film, I love ripping it apart! :D

---
pesi : I think directors should not remake classics like Sholay, etc. What do you think?
Raja Sen : I agree entirely, pesi. I don't think remakes are a good idea, especially of great films. But then to each their own.Personally, I don't think the new Sholay will ever be produced; it's all just hype.

---
Shanta : Which is the upcoming actress to look forward to?
Raja Sen : Ayesha Takia. She's a bright, attractive and talented girl, and the directors signing her up are rather thrilled.

---
marci X : will you ever do a batman review again in your life?
Raja Sen : I'd love to :) I still believe Christopher Nolan's version left a lot to be desired, and I doubt if any other actor can match Jack Nicholson's Joker (a character who will feature in Nolan's sequel)

---
Sahil : Which actor from hindi cinema is an overrated actor?
Raja Sen : Aamir Khan.

---
Princess : raja is well, ahem, very silent on ayesha takia's other charms, it seems
Raja Sen : some things go without saying, don't you think?

---
ki : Is Indian cinema truly global in terms of standards? I mean, look at the production overseas and you see the difference
Raja Sen : No, we have a long way to go. It's not just budgets and production values, but we work on a very limited creative canvas as well. We need to explore different kinds of cinema, not typical box office-friendly fare.. but I think things are beginning to slowly change.. now if only we had some original stories.

---
Swapnil : Who deservese an National award for which movie? I am talking about Hindi movies
Raja Sen : in 2005, I'm assuming? Hindi films... hmmm.. I'd recommend Shreyas Talpade from Iqbal, because I think he was well-suited..on the other hand, it's highly LIKELY that Rani or Amit pick something up for Black...

---
marci X : since you mentioned kay kay menon, have you seen paanch? wasnt that his first movie, the one that never came out?
Raja Sen : :( No, I haven't seen Anurag Kashyap's Paanch, but I think KK's going from strength to strength in every movie he makes.

---
HotShot : DO u think Paheli was theright choice for Oscars ?( Better than Black)
Raja Sen : Yeah, I've always believed that Paheli would strategically appeal more to the Oscar jury.Not to mention the fact that it's a good film and Black isn't.

---
Shweta : Will the industry go into heavy losses if anything happens to Mr. Bachchan?
Raja Sen : Lets not even go into that hypothesis. Mr Bachchan is recovering, and all will be well.Of course, Ek Ajnabee will get a record opening at theatres this weekend!

---
gqinkla : Are you in bollywood????
Raja Sen : Well, I am in Bombay, if that's what you mean.

---
funshh : do you people get paid for endorsing any movie. Coupls of reviews on No-Entry and Kaal were like that.
Raja Sen : Nope! The review is simply what the reviewer feels after watching the film; no ulterior motives there, I'm afraid.

---
Twinkle : Which is the next movie that you want to rip apart
Raja Sen : why don't you suggest? which should I watch this week - Neal'n'Nikki or Ek Ajnabee? :)

---
sanjhbati : have you seen 'main, mere patni aur woh"? what do you think abt this movie? I liked it very much.
Raja Sen : I think it was quite an interesting film, actually. The characters were well-etched and relatable, and I enjoyed watching it. Not a very memorable film, but it definitely had its moments.

---
Rony : Raja, People are really pissed off with your movie reviews. I was going through the public comments for your Apharan Movie review. 80% of total comments are against your review. How do you feel?
Raja Sen : Amused.

---
marci X : wny dont you review mor south indian movies... heard that they are much better than the bollywood movies?
Raja Sen : I watched a great Malayalam film called Perumazhakkalam at the IFFI festival a few days ago, and I would love to watch more South Indian films.But it's hard to get them on DVD here in Mumbai, and even harder to get films with good subtitles, a problem I was discussing with a colleague just a couple of hours ago.Any suggestions?

---
star wars episode 69 : why do you think no good science fiction movie is made in india?
Raja Sen : Because we are used to spending our crores on star salaries instead of special effects. Traditional Bollywood producers aren't willing to bankroll anything that doesn't sound like a 'safe' bet, and sadly, sci-fi films can't be made on a small budget. :(

---
Nitin : Why is it that being the biggest movie industry, we are still not able to win an oscar ? Where do u think we lack ?
Raja Sen : Why in the world should we attempt to win an Oscar? I think we just need to be visibly original.

---
funshh : Why do indian directors copy english movies such as Mujh Se shaadi karogay was copied from (Anger Management)Aitraz is also copied from one movie of Michale Doguls and Demi moor (Disclosure). Phir milengay is copy of (Philadelphia starring tom hanks) Why is it so? Is it because indian audience is unaware of these movies or our directore and story writer are brain less.
Raja Sen : It's because there's a severe lack of original thinking in Bollywood today. Yes, more than half the mainstream films now are ripped off from abroad, and directors are taking the audience for fools.Most of these films aren't doing too well, actually : ) so maybe these guys'll be forced to come up with something good after all.

---
IlaVarsi : i believe the film industry has a new name for raja sen -- raja the ripper :D
Raja Sen : Thanks! :) Works for me.

---
BengaliBabu : Raja Da, Kemon achen? From your name it looks like you are a bengali. Do you review Bengali movies too? What do you say about the future of Bengali movie Industry?
Raja Sen : I think the Bengali industry is slowly gaining prominence again, but it has a long way to go. Recently, I liked Buddhadeb Dasgupta's Kaalpurush. But one good film a year (usually by the same director) isn't enough, is it?

---
Nitin : On one side we have producsers who spend crores of rupees making big - budget movies under the name of "art of expression" and on the other hand lakhs of people struggle to have basic necessitites in life...thousands still die of hunger..farmers commit suicide...?
Raja Sen : yeah but a million farmers also find salvation in typically escapist Bollywood entertainment.. they find hope in a Lagaan and love in a DDLJ..

---
Ravi : In u'r opinion what do u think are the Top5 requirements for a Professional film critique ?
Raja Sen : 5. Objectivity 4. Patience (!!) 3. Writing talent 2. Love for films 1. Courage ;)

---
gqinkla : YOU HAVENT ANSWERD MY EARLIEAR QUESTION ABOUT BIG B AND SHARUKH
Raja Sen : Ah. Well, Amitabh and SRK are both talented actors whose image is far larger than their canvas, which means that they don't get to play around with different roles as much as they deserve to.

---
ChicagoW : Why do hindi film makers dont care abt having good scripts?
Raja Sen : the tragic fact is that Bollywood isn't half as experimental as it should be. There are very few people who actually dare to do something different.

---
IlaVarsi : i notice raja sen ranks objectivity last in his rankings
Raja Sen : They're all important; I just prioritised :)

---
IlaVarsi : raja sen. am quite tired of all critics ripping apart from scripts etc, including you. if you were to direct a film, what will you do to avoid the same pitfalls you have made a career accusing other people of? i ask vide khalid mohameed, whose first film suffered from all that he blamed other filmmakers throughout his career
Raja Sen : Ila, I guarantee you.. If I *ever* made a film, it'd be original. And yes, the 'journalists turning into directors' track record is a pretty pathetic one, I admit.

---
NYSocial : Where do we think Indian Cinema is going ? Our producers just follow trends...comedy movies...shooting abroad..and all that. The basic creativity is missing. What do you think ?
Raja Sen : I know, but there is fast emerging the newly-branded culture of 'multiplex films'. Which means it is actually possible to make a tiny-budget film the way you want to, and keep it profitable. There are creative people in the industry, and they just need avenues to express themselves. I think things are getting better (despite the fact that mainstream films are getting worse and worse, like you said), and I'd like to be optimistic about Indian cinema's future.

---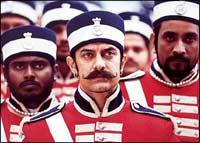 IlaVarsi : i have been following raja's reviews... i think it is very easy to impress him, with mindless muddle like garam masala. show some t&a, have the men ripple their pecs, some neo music, and raja feels its nirvana!but make some meaningful cinema, and raja sen thinks it lacks script, the performance is pathetic, etc
Raja Sen : Going by that assessment, I should have LOVED Mangal Pandey!

---
sohail : who is going to be most happening star in bollywood in couple of years after shahrukh khan
Raja Sen : I think it'll be a tough fight between Abhishek Bachchan, Saif, and Akshay Kumar.Having said that, I don't think Shah Rukh (or for that matter Aamir or Salman) are going anywhere anytime soon!

---
Ravi : I have been to a film appreciation course here in USA..which was both ineteresting and educative...I think many of our so called reviewers need to take that..u'r comments please
Raja Sen : Sure. Film appreciation courses aren't just educative, they're also ALWAYS fun.

---
IlaVarsi : what do you think of john mathen, raja sen? will his second be as good as sarfarosh? i ask because i thought one only improves... but look at mani shankar, who debuted with a well crafted december 16 and then just went downhill....
Raja Sen : yes, and Farhan Akhtar made the disastrous Lakshya.I don't know, Ila, but I sure hope John comes up with something interesting. The fact that the film stars Shahid Kapoor doesn't really thrill me.

---
IlaVarsi : oh yes, bengalibabu, sukanya varma. is she related to ram gopal... or she isn't?
Raja Sen : ram gopal vArma; sukanya vErma. No relation, guys. Bengalibabu, I'll pass on your compliments to Suku, I'm sure she'll be glad :)

---
ChicagoW : Why do Hindi actors over act?
Raja Sen : Because audiences have grown used to these nautanki stylings. I think it's getting better, though. Even Shah Rukh has almost given up the stammer.. :)

---
BengaliBabu : Raja Sen, Are you a communist? Just an off track question.
Raja Sen : Nope; I'm a comic-book-readerist.

---
kv : why is indian cinema so hung up with 'reel-life' hero's. When Kargil or for that matter Delhi happened, the nation as an entirety did not gather in front of hospitals or the tube to pray for the victims. Is it time for indian ppl to change their mindsets?
Raja Sen : what do you suggest Indian Cinema does about it, KV?

---
NYSocial : Raja, I also want to become a film critic. Can u guide me on where to start and what to do ?
Raja Sen : Start watching a lot of films and writing about them. These days, it's easy to just start a blog and get feedback on your reviews. Most publications you apply to today will take you seriously if you have a blog with a committed fanbase.

---
ManmohanSingh : where do you thing is our indian cinema going is to sex and violence where as hollywood is making clean movies now?
Raja Sen : I don't think that's an accurate assessment at all, MS. Sex and violence is rampant in ALL forms of cinema, and both Hollywood and India are also churning out a lot of 'clean' films.

---
pt : What crieteria do you keep in mind while writing reviews (Lke- readers mindset , what you think of movies Contemporary movies )..I mean wehn you pen down what angle are you focussing most ?
Raja Sen : you have to think about what the movie is trying to do. You cannot judge a Zubeidaa with the same yardstick as a No Entry. Films are made for different reasons, following different parameters. The movie's identity has to be kept in mind.

---
skywalker : How did you find the Goan Hospitality ? Are they treating you well there ?
Raja Sen : Goa was terrific. I loved it. :) They're very friendly folks.

---
IlaVarsi : i am willing to wager money raja on your list of next superstars. saif, it will never be. abhishek yes. akshay..., star, but not superstar.you have not mentioned the frontrunner, hrithik roshan, it is he i put my money on
Raja Sen : It's a bet, Ila. I still think the big Khans aren't vacating the Superstar seat. And Hrithik Roshan doesn't have the range or longevity.

---
asterix : Man u definitely dont want to reveal your choices do you??-------------------------------Who in your opnion are the 3 best hindi actors/actresses/films..pls rank them in order too!!
Raja Sen : Asterix, my friend, why don't you ask me one question at a time instead of a combined bombshell that requires 20 minutes of thought to give you a fair answer?

---
kramacha : Why is the media so obsessed with Amitabh's illness ? Dont normal people like us suffer from Coalitis ?
Raja Sen : That's true, but normal folk like us aren't aspirational figures to a billion people. Amitabh Bachchan matters because he is an icon. In India, actors (and cricketers) are mythologised and made into deities because of the lack of (other) people to look upto.

---
ChicagoW : hritik overacts
Raja Sen : oh yes he does :D

---
IlaVarsi : whatever went wrong with kareena kapoor's career, you think? was it the loser boyfriend? or her attitude (remember her barb on chai with charan johar? when asked what she had that rani didn't, she simpered and said, the cheque?) now i guess rani is having the last laugh... and i am so happy
Raja Sen : I think its a combination of what you mentioned, Ila.. And the fact that she's made some very questionable film choices over the last couple of years. But I think she could bounce back.

---
ChicagoW : who do u think is India's greatest actor so far?(besides the obvious Amitab & Raj Kapoor)
Raja Sen : Pankaj Kapoor, Om Puri, Naseeruddin Shah. In more recent times, Boman Irani and Kay Kay.

---
kr : Why is media obsessed with Amitabh's illness ?
Raja Sen : Simply because millions around the globe want to know how he's doing.

---
skywalker : Sohi, Paheli was a Original Indian Script (although it was very stupid..that is the maximum we Indians can do where creativity is concerned) How do you expect to show bollywood remakes of Hollywood movies(like BLACK) at Oscars ? What is your take Raja ?
Raja Sen : I agree. We'd be a laughing stock if we took Black to the Oscars.

---
asterix : Fine..:) can i get 1 actor/actress/movie?
Raja Sen : Sure:) Pankaj Kapoor/Nandita Das/Munnabhai MBBS

---
kr : Why do films like Salaam Namaste do well ? The movie has nothing but over the top acting by everyone
Raja Sen : Sometimes the audience just wants to go to a theatre and see pretty people and pretty colours. Honestly, the film had nothing in it, but maybe it worked because sometimes that's all people want.

---
jaydip : Hi Raja, what do you think of Rituparno Ghosh? Do you think he's too overrated? Did you like Antarmahal? On a different track... do you think any of Ray's movies were selected for Oscar from India? If not, why not? Could they have won any for us? Particularly considering Ray got lifetime achievement award... Just your thoughts really!
Raja Sen : I think Ritu's an EXTREMELY overrated director. I couldn't watch more than half an hour of Antarmahal.Ray's films were too big for the Oscars. Almost every one of them won far more respected cine prizes worldwide.

---
papa : RAJA SEN, DO U LIKE UR HAIRCUT ? BASED ON THE PIC, I DON'T THINK U HAVE TIME FOR HAIRCUTS
Raja Sen : :)

---
asterix : Do you think the movies we make should be based on our culture - we seem to be making more and more hollywood-like movies when half the audience is still below poverty level.
Raja Sen : Well, I think it'd be great if we just started making more 'real' films, like Hrishikesh Mukherjee, Basu Bhattacharya, and Sai Paranjpe did.

---
maverick : Used to really like your coverage of the F1 races (expecially some delectable mentions about a certain driver who answers to the name of JPMontoya. Now its only movies! Any plans on getting back to F1 coverage...especially with the Red Baron mounting the challenge to recapture his throne!
Raja Sen : :D Thanks, it's great to hear that someone actually remembers my columns! Of course I'll write more F1 (and you've been VERY encouraging) as soon as the new season begins.Go Red!! :)

---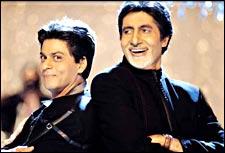 sohi : whom do you consider as the "BAdshah of bollywood" ? either shahrukh or amitabh?
Raja Sen : Currently, it's Shah Rukh. But Amitabh might actually be making more money.

---
IlaVarsi : raja sen one last question and i am outta here. please to answer this, be back on the next chat, whenever it is on: have ash and whatsisname really split? why oh why do such women settle for such losers! is it a question of opposites attracting?
Raja Sen : Well, all I can say is that they are still 'officially' together ;)

---
BengaliBabu : Raja Da, do you know Prem Panicker?
Raja Sen : Yup, I am lucky enough to!

---
NYSocial : My Choice of Best Hindi Movies ( Commercial not art ) goes like this. Do u agree ?1. Sholay ( All Categories. Undisputable )2. Satya ( underworld. It is so RAW )3. Laagan ( Social. Out of the Box )4. DDLJ ( Love. Nothing comes close )5. Jane Bhi Do Yaron ( Comedy)6. Manoranjan ( $EX Comedy )7. Hum Aapke Hain Kaun (Musical).What is your opinion ?
Raja Sen : It's an interesting list. I love all the films on board, and enjoyed them for various reasons.:)

---
star wars episode 69 : sir, now we have a finn as good as hakkinen and colder than him; a spanish wizard who has the backing of a team that can eff the living daylights out of the reds... and ruebens is no more there to pull over and give way...so...
Raja Sen : The Finn is truly spectacular, I agree. But I think the Red Baron will pull off a(nother) Championship before he says goodbye.Remember, ALL the true Greats always make a glorious comeback.

---
Shahezadi : Raja Sen, your answer ( Pankaj Kapoor, Om Puri, Naseeruddin Shah. In more recent times, Boman Irani and Kay Kay) shows you nothing about films made in other parts of india, isn't it?
Raja Sen : I was asked about hindi actors... There are a lot of talents around the country (Meera Jasmine is outstanding), and I try to keep abreast of cinema from across the nation, but Bollywood *is* what I do.

---
sohi : i have seen some newspapers saying amitabh or shahrukh or some actor has good fan following ieven in countries like columbia ,south merica etcc.how could these people comes to know about bollywood actor .
Raja Sen : Indians are EVERYWHERE, Sohi. Plus actors today perform around the globe, and people get to know who they are.

---
Raja Sen : Alright guys, was great fun chatting with you lot, will catch up again next week. Cheers.