Home > Movies > Reviews

Kanda Naal Muthal: a sweet film

Shobha Warrier | December 02, 2005 19:45 IST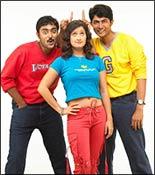 As kids, they fought like cats and dogs; twenty years later, as adults too, they fight like cats and dogs.
The transformation of Krishna (Prasanna) and Ramya (Laila) from two children at loggerheads all the time to two lovers is the story of Mani Ratnam's assistant Priya's debut directorial venture, Kanda Naal Muthal.
Krishna's friend and boss Arvind (Karthik) helps love blossom between the two warring child-adults.
Like Priya confessed in her interview to rediff.com, there is nothing new or different about the story. But what is commendable is that all the characters she has created look very real and behave like normal human beings. And, there is a kind of goodness in all of them. That is what is endearing about Kanda Naal Muthal.
When theatres are flooded week after week with films that have a superhero, five songs, six fights and loads of skin show, Priya's film is definitely like fresh air.
Of course, Kanda Naal Muthal also has six songs, and they do affect the smooth flow of the film. Yuvan Shankar Raja's music is good, but almost all the songs are unnecessary intrusions in the film.
The fresh treatment and Priya's conviction are evident. But what goes against the film is its script.
One expected a better, more taut script from Priya who wrote Revathy's directorial debut, Mitr My Friend.
All the characters Priya has created are real. Krishna's unmarried elder sister, Ramya's younger sister, all of them are well etched-out. But, sadly, there is no story to string them together and take the plot forward, especially in the second half.
Predictability and stale situations also take away half of the film's charm.
The first half is interesting with some very witty and natural dialogues. Prasanna is very good as Krishna. In fact, it might be remembered as Prasanna's film, thanks to a subtle but very powerful performance that steals Laila's thunder.
Karthik as the US- returned engineer is suave and fits the role perfectly. Lakshmi, as Karthik's wheelchair-bound mother, has only few scenes but she is simply unforgettable in a hilarious role.
Scriptwriter Priya may not have lived up to expectations, but Priya the debutante director has done a decent job.
All in all, a sweet film.
Want to see this movie? Check out Rediff Movie Tickets!


What do you think about the story?








Read what others have to say:





Number of User Comments: 2








Sub: Would love to watch this movie.

Thats a very brief review. I too heard this movie is worth watching. Hope the masses watch such good ones instead of the run-of-the-mill masalas. ...


Posted by Kavita









Sub: review

It\'s high time you change the style of your reviewing. Its not worth the page it is written. I wonder how characters which dont string ...


Posted by vasanth kumar






Disclaimer