Home > Movies > Interviews

The Rediff Interview / Madhavan

An actor who researches on the Net

August 31, 2005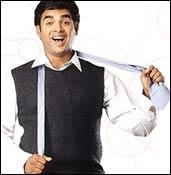 Ever since he shot into the limelight with Mani Ratnam's Tamil film Alai Payuthe R

Madhavan has not looked back.

Maddy, as Madhavan is to his friends, consolidated his career with a variety of roles in different genres – romantic (Minnale, Priyamana Thozhi), action (Run), comedy (Nala Damayanti) and drama (Kannathil Muthamittal).

His Hindi films -- Rehnaa Hai Terre Dil Mein (a remake of Minnale) and Dil Vil Pyar Vyar -- have not been as successful.

What's Ramji Londonwaley cooking?


And as his new Hindi movie Ramji Londonwaley gets ready to hit theatres, Maddy -- who became a father recently -- spoke to Radhika Rajamani.

Of late, you've been very selective about your roles.

I haven't had a release for a year in Tamil cinema. Thank god for the market and the acceptability, I have the luxury to take a break if I'm not getting a good story, do a film after a year and still have a grand opening. See Priya Sakhi. It shows that people are ready to accept you if you give them a good story. I don't think I'm in a rut of having to give a release every three months. For me, that would be just manufacturing, not art.

What makes you sign a film?

Good question. It's very subjective. It's like saying, 'What do you consider a good painting?' It's only when you see it will you realise that it is something that appeals.

What do you think of scripts today? Is creativity being undermined?

Hindi and Malayalam cinema is coming up with some fabulous stories. Even in Tamil, we had some fabulous stories last year like Kaadal and Autograph. We have some movies which have done exceptionally well despite not being ordinary subjects. All my scripts are exceptional. They are not run-of-the-mill. Take Kannathil Muthamittal, Anbe Sivam, Nala Damayanti, Priyamana Thozhi, Azhutu Ezhuttu, Alai Payuthe, Minnale, Dumm Dumm Dumm. They all have a setting, a logic in terms of their positioning in terms of their language and the dialects. We do not lack talent. We lack good scripts.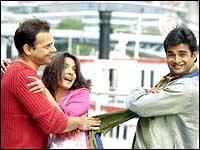 Tell us about Ramji Londonwaley, which is an adaptation of your Tamil film, Nala Damayanti.
The second half of Ramji Londonwaley is entirely different. I have changed the climax completely to suit what I thought should have been in the original. I have been involved with the scripting, additional screenplay and the dialogues.
The basic story is almost the same. Samita Bangargi is the heroine and she has done a good job. The movie is shot in and around London.
Everybody expects their films to be big but when something like Columbia Tristar jumps in and signs the deal overnight, you are assured that it's a quality product.
Why do you do Hindi films so sporadically?
I need to have a good story. People say my first two films have not done well but they have become retro hits. Abroad, I am introduced as someone from Rehnaa Hai Terre Dil Main or Dil Vil Pyar Vyar. As a result of this I'm getting fabulous Bollywood offers. I need to put my third step forward carefully so that it is easy for me to make another film in Hindi.

Your next film will be Thambi, a Tamil film…
It's in the genre of Run but not the chocolate boy-turned-action hero story. Thambi is more like a missionary film. It's about a guy who believes that violence is one of the biggest evils in society. Unfortunately, to fight violence you have to use violence. The character's favourite line is: 'If I put a knife and a scalpel at your heart to do an open heart surgery it's not violence, it's a cure.'
It's quite hard-hitting. People who watch the film will say, 'If I see a road accident tomorrow, I should help. If there is anything I can do for the good of society, I will. I cannot hide under the excuse that the police will harass me.'
What made you sign the film?
It was a wholesome character, a well-written script, explained to me well by the director who has a phenomenal potential. Very seldom do you come across stories like this that you are excited about. I am working with (director) Seeman for the first time. It's a pity Seeman has not done many films.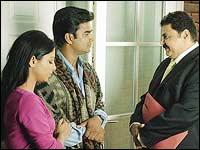 How do you motivate yourself to do the same roles in remakes?
It becomes more challenging. First of all, it's in a different language and for an actor, that changes the entire scenario. I think only actors capable of doing films in two languages will understand the challenges.
I am a little hard on myself. I dub for both the languages. To go from a Palaghat accent (Nala Damayanthi) to a Bihari accent (Ramji Londonwaley) in the same story is not a small step. One has to do it convincingly. When you perform a scene in a movie and you are happy with the outcome then automatically your mind wants to recreate it in a different language. That by itself is a repetition, and takes a little bit of magic from the scene. So for me to actually erase that from my mind and add the honesty of that particular moment in a scene is a bigger challenge than having to do it for the first time.
Makeovers are in these days, with actors experimenting with their looks. You went from a bald pate for Azhutha Ezhuthu to long hair in Thambi…
More than getting out of the ordinary rut, it is to get into the character. When you don that attire, you get into the skin of the character. It's like a normal guy suddenly wearing a military uniform. However sloppy he is, there would be a certain smartness or erectness about his posture.
In Thambi, the character doesn't blink throughout in the film. He's so shocked at what happens that he forgets to blink. I managed to do that. It's a professional secret (laughs).
When Thambi gets angry, the wind starts swirling around him. It's a little tough for me to keep my eyes open with all the dust flying around and still deliver the lines without looking like a fool.. The moment I'm blinking, I'm not Thambi.
You have worked with stalwarts like Mani Ratnam, K Balachander, Kamal Haasan. How has it helped?
It's fortunate I have been associated with them. On the positive side, you are working with the who's who of the industry. You get to know how they work and get used to their excellence. You get used to quality.
When you come out of that and work with an ordinary director, you realise you have landed on your head and don't know which way to turn. If your co-star is not performing well or if a director has not done a shot correctly, it's not capturing the emotion it is supposed to capture. It's against protocol for me to say, 'Please change the camera angle, you are not getting what you want.' So when you start working with a second grade of directors who have achieved something, it is difficult for you to convince them and say, 'You have not understood what I have tried to tell you.'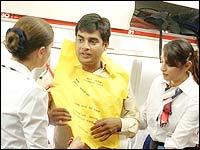 They expect me to behave the same in a Mani Ratnam set.
But in a Mani Ratnam or Kamal Haasan set, the discussions and arguments are even more. I work with new directors as I can contribute. In fact, I control everything to a great extent. I am not a megalomaniac but I just want the movie to be as good as possible.
So I take active steps as far as the technical casting is concerned.
Will you take up direction later?
That will be the most obvious step ahead. I still want to hone my skills as an actor. An actor should know a bit about almost every department -- from the setting, production to direction.
I have realised the importance of proper scheduling. In Ramji Londonwaley, we shot 20 minutes of screen time in six hours. We were in a tight situation. The airport was not being given to us because of the bombings on trains in Spain. We couldn't get Heathrow or Gatwick. We finally managed to get Leicester airport at a very high cost -- about 500-600 pounds an hour for six hours.
On an average, people shoot two-three minutes of screen time in a day, we shot 20 minutes in six hours!
You are doing quite a bit of social work...
Honestly, I don't think I'm doing enough. I am not saying it to sound modest. I know I'm capable of doing more. The intrinsic feeling to help people is there. The biggest motivating factor for me is to get out of the guilt feeling where I feel I have got much more from society than I deserve. I have come from very humble beginnings. To be catapulted to the kind of fame, money and recognition and most importantly, love and respect wherever you go, I think it's god's way of making you realise: 'I've given you more than your share, it's time for you to spread it.' So that's why I do it.
If you say actors have a social responsibility to do things, you are right in a way. It's a wishful decision. But if it's done out of force, I don't think it will accomplish anything. Everybody starts counting how much work they have done and see if they have done their due for the week. That is not social service. You need to go way beyond that.
Are you a Net addict?
I use the Net for a lot of things besides e-mailing. I involve myself in chats with people as part of my research for characters. I change my character and behave like a soldier, reforming rowdy, cook or a young girl to talk to people and see how they want to talk to me. It's a great research tool. The conversations help me in formulating my characters.


What do you think about the story?








Read what others have to say:





Number of User Comments: 5








Sub: Dear Maddy

HI, R.MADHAVAN I don't belive that I'm writting an mail to U. I'm ur A/C & not a Fan. I did saw ur movie RHTDM ...


Posted by Sneha









Sub: Madhavan !

It feels both funny and strange to read about Madhavan, the star ! In Jamshedpur, he was an extremely mischievous student in the school where ...


Posted by Surekha Tenneti Venugopal









Sub: hi

i would really wanna chat withu


Posted by subhmita









Sub: a mediocre actor

I think rediff.com is running out of ideas. Interviewing a mediocre actor (??) such as Madhavan is not merited and actually brings down the esteem ...


Posted by Vish









Sub: great fan to a great actor

hi madavan, I am a great fan of you after seeing ALAI PAYUDEY and i became greatest fan of you after seeing AIYUDA YELUTHU and ...


Posted by RAJU






Disclaimer