Advertisement
August 22, 2005 14:38 IST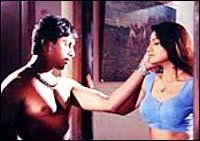 Producer Nagi Reddy, a rank newcomer in the Telugu film industry, displayed exemplary courage by releasing Green Signal on the same day another massively hyped film, Jogi, was released. But it looks as if that courage stemmed from the confidence of making a good product.
Based on a Telugu novel by Yendumuri Veerendranath, Green Signal is very watchable. Its strong points include a taut screenplay and Ishwar's well-controlled direction, along with strong dialogues from his mentor K V Raju. Add to this some good cinematography and a competent music score by Venkat and Narayan, and you have a lot of things to be happy about.
The film also boasts some young talent in the lead, with passionate performances. Ajay, who made a mark in Excuse Me, delivers yet again. The glamorous Ashitha also showcases her talent well. The only thing irksome is the film's tragic end.
The story revolves around a young couple (Ashitha and Vishal Hegde) that thrive on surprises. But in one twist, the wife's former lover (Ajay) enters their life to create a few problems. Ajay is a former classmate of Asha's who, while in college, makes up his mind to marry her. In a twist of fate, he is compelled to kill a politician responsible for his mother's death. He is jailed for three years but, while serving time, manages to escape during a fire. He contacts Ashitha who, by now, is married to Vishal and wants to keep the former affair secret. Ajay moves into the home opposite the couple, befriends Vishal and even manages to get a job through him. What happens next is unexpected. Watch to find out.
Ashita shines on screen. It's time Kannada producers gave this talented girl a few good breaks. She is bubbly and also manages to be sexy without too much of a hassle. Ajay, as an angry young man, delivers all that is expected of him. It is his best performance to date. Vishal looks good, but needs to improve his skills. Ramakrishna and Srinivasaprabhu are also perfect in their supporting roles.
All in all, a very good way to spend an afternoon.