Advertisement
August 19, 2005 20:14 IST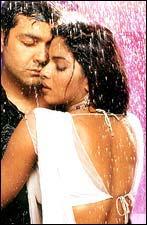 Good second halves always make great movies, said a friend not too long ago during a filmi adda (adda is Bong for friendly chitchat, by the way).
Filmmaker Suneel Darshan, perhaps, read the rule backwards.
Or else, why does he let a rather well-knit first half meander to a ludicrous end, much to the chagrin of a 100-odd people who had gathered for the first show of Barsaat?
You need a man's sensibilities to review the film, said a senior colleague of mine the evening before. I agree with him. After all, the film has the gorgeous Bipasha Basu. Let me confess, her oomph had me floored within the first half-an-hour (did someone say women hate women?).
Bipasha seems to be looking better with each film. A stark contrast to her role was that of co-star Priyanka Chopra, who was an epitome of calm intelligence. She underplayed her role to perfection.
Who's hotter: Priyanka or Bipasha?
It's these two women who have carried the film on their shoulders, as Bobby Deol's performance left much to be desired. It's time he exchanged acting notes with Sunny bhaiya. Bobby wore a perpetual sad look, one that reminds you of a grim-looking in-charge of a morgue. Never ever have I seen such unhappiness in the eyes of someone so hopelessly in love. Let alone being sexy, Bobby did not look even remotely attractive.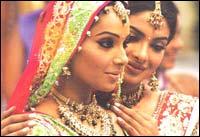 As the film's promos tell you, the film is a triangular love story involving Anna (Bipasha Basu [Images]), Aarav (Bobby Deol [Images]) and Kajal (Priyanka Chopra [Images]). Aarav is ambitious enough to leave his wife Kajal, family and home behind in India and try his fortune abroad. Cars are his passion and he gets a kick out of designing them. He seems confident of making it big in the US and visits a gypsy village.
There, he bumps into Anna. While it is love at first sight for her, Aarav does not think much about her. Soon, he gets a huge break -- a job at BMW [Images] -- thanks to Anna. After that, it does not take long for Aarav to fall in love.
So far, the plot manages to hold the audience's interest.
While Bipasha's grandfather, who happens to be the BMW chairman (Shakti Kapoor tries in vain to look as formidable as possible), gives his nod for the marriage, Bobby has to rush home to attend to his ailing father. And that brings him up close with reality. He has to do away with his unconsummated marriage to Kajal to tie the knot once again.
After this, the plot goes haywire and the director seems to lose it.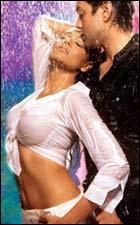 Does the second marriage happen? Honestly, you don't need to know. For, if you do, that will mean you would have to sit through the nonsensical last leg of the film. And that is not exactly entertainment you should look forward to.
Barsaat abounds in rituals that tradition-hugging Indians love to talk about -- Diwali and Karva Chauth -- evenly punctuated with words like sindoor and mangal sutra. The film has no dearth of melodrama. People laugh and cry and talk about love, lawyers run to marriage mandaps to prevent illegal unisons and a neglected lover attempts to seduce the man of her dreams in a toilet (what can be more preposterous?)!
However, when good sense prevails, the couple kiss. As if to justify the film's title, it starts to rain, as a metaphor for washing away the bitterness.
One can't help but wish the barsaat had the same effect on the film's unbearable aftertaste.