August 18, 2005 15:20 IST
Last Updated: August 18, 2005 15:33 IST


Bobby Deol is elusive, but the actor says that's just him.

 

"That's the way I am. I've changed my number so frequently, I don't bother to memorise it. No one knows how to reach me. My father-in-law and sister complain about it. But what to do? I can't become more sociable just because that's expected of me. That wouldn't be me."

But fatherhood twice over has compelled Bobby to alter his laidback attitude to life and career. "My two sons adore me. They've made me more responsible. Earlier, I was the youngest and therefore the ladla of  the family. No more so. I work out more often -- at least five times a week. Not to look beefy but just to stay fit. If you're healthy, you feel good about life."

 

Bobby's last few films did not fare well at the box office. But the actor is upbeat about his latest release, Barsaat. "It's a film with family values. But I've done a love triangle before -- Sunny bhaiyya and I were in love with the same girl (Urmila Matondkar [Images]) in Dillagi. Barsaat is my first love triangle where I'm with two leading ladies."

 

Who's hotter: Priyanka or Bips?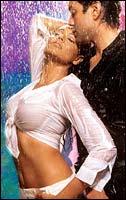 He warms up at the mention of his heroines, Priyanka Chopra and Bipasha Basu. "I've worked with them before. Bipasha  started her career in Ajnabee [Images]. As for Priyanka, I'm really happy to see how far she has come. In fact, I'm proud of both the girls. In Barsaat, we do a state-of-the-art triangle but with a unique twist."
Bobby has a great deal to say about his director. "Suneel Darshan is the kind of director I'd want to work with repeatedly. In fact, I've already completed another film with him called Dosti. It's about male bonding and also stars Akshay Kumar [Images]. Suneel and I've decided to work on another project. The script is yet to be finalised. He's so passionate and devoted to his work that he enthuses everyone on the sets. Contrary to perceptions, I am completely devoted to my work, though I don't go around tom-tomming my commitment. What I've been lacking lately is motivation. I need to re-invent my career. I think Barsaat gives me that opportunity."
The first choice for Barsaat was Akshay Kumar. But Akshay stepped out, and Bobby stepped in. "Akshay and I are buddies," Bobby says. "When he had a date problem with Barsaat and Suneel asked me to step in, I asked Akshay about it. Akshay said he was glad it was me and not someone else. I don't make friends easily. Akshay is one of my few friends  in the industry. In fact, his wife Twinkle and I started our careers together in a film coincidentally called Barsaat."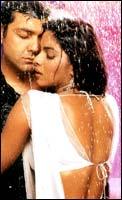 As a producer, the Deols have burnt their fingers. "We lack the business sense of Suneel Darshan. We don't know how to deal with money. Our productions are not commercially viable. Recently, we produced my cousin Abhay Deol's film Socha Na Tha, and we're very proud of it. In fact Sunny bhaiyya is now doing a film with its director Imtiaz Ali."
All three Deols -- Dharmendra [Images] and his two sons -- will be seen together in Anil Sharma's as yet unnamed film. "That should be exciting," says Bobby cautiously. "Only the script needs to be worked out properly. We will play our real-life roles of father and sons and it will be a film about a father's dreams for his children. Audiences should like that."
Bobby is hoping Barsaat will be a new beginning for his career. "I hope it makes the kind of impact Suneel Darshan's other films have made. I need a big hit at this point of my career."