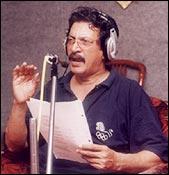 Nizhalkal' Ravi, a leading Tamil character actor, stopped his car in front of a dubbing theatre and stepped out. A passing biker braked to a halt, took a U-turn and rode towards Ravi. He took off his helmet and said, 'Sir, you have done an amazing job! It was marvellous.'
The biker was not referring to Ravi's performance in any of his movies; he was referring to his dubbing for Amitabh Bachchan [Images] in KBC 2.
Ever since the first episode of KBC 2 went on air on August 5, Ravi's phone has not stopped ringing. "It is just overwhelming," he says, happily. "I never imagined I would get a response like this. People told me it seemed as if Mr Bachchan was speaking in Tamil."
While people all over India listen to Amitabh Bachchan speak in English and Hindi in KBC 2, people in Tamil Nadu listen to him speak in Tamil on Star Vijay. And the man who has become Big B's [Images] Tamil voice is 'Nizhalkal' Ravi. Being the only CAS (Conditional Access System) implemented metro in India, Chennai locals can listen to the original Bachchan only if they have a set top box installed.
The only previous dubbing experience Ravi had was lending his voice for Simba in The Lion King. He still remembers that as a very interesting experience. "The film distributors took samples of many prominent Tamil actors and sent them to Hollywood. They chose my voice. I was nervous when I went to the studio. There were quite a few Americans from Hollywood to oversee what I did, which made things worse. The first few takes did not come out well. Suddenly, I noticed that the original voice for Simba sounded exactly like Tamil actor M R Radha -- with the same intonations. From then on, it was a smooth ride. The Americans were more than happy."
That was ten years ago. So, when he got a call from Narayanan of Seventh Channel who was assigned the job of dubbing KBC 2 into Tamil, Nizhalkal Ravi was surprised. "He called me one day and said I had to dub one of Indian cinema's biggest actors. When I asked who it was, he didn't answer, asking me to come to the studio instead. he told me it was a surprise. When I got there, Narayanan put the KBC 2 tape on. I was totally taken aback when I realised I had to dub for Mr. Bachchan. Of course, I was thrilled too. I was a bit scared at first because I wasn't sure I could match his voice -- a voice everyone in India is familiar with. Many people had told me my voice was good, but I was sceptical about matching his baritone."
He dubbed a small sample, which was sent to the Star Plus office in Mumbai. It was promptly selected.
On the first day of dubbing, Ravi came straight to the studio after a day of hectic shooting, and found he couldn't manage the right voice after hours of shouting and screaming on the sets. He decided to come early the next day instead, and arrived at 4 a.m. "I started with the 'Welcome back to Kaun Banega Crorepati 2.'. It was early and my voice was fresh. Engineer Suresh said, 'Fantastic. We will continue with the same voice'. Last week, I dubbed only in the mornings. Now, I can do it any time. I am now used to speaking like Mr. Bachchan," laughs Ravi.
He admits that dubbing for the Big B is no easy task, what with the kind of voice modulation Bachchan follows. "You should see his voice graph. It goes from zero to 99, then comes down to 42, goes back to 60, unlike many people whose voice graph will have only slight variations. Mr. Bachchan's voice has steep variations. His sophisticated style of speaking is also inimitable."
So, Ravi listens to Bachchan's voice first, then speaks the Tamil lines with the same intonations. What has helped is the passion he indulged in as a college student. As a big fan of the Big B, Ravi used to mimic him at college functions and also to entertain his friends, little knowing then that he would one day dub for him!
After the first show, he was inundated with appreciative phone calls. "I was thrilled. If I had bungled, I would have received a lot of flak. Luckily, everybody praised the way I spoke. I don't think a dubbing artist can lend his voice to Mr. Bachchan; I feel only an actor can do justice to his voice because it is expressive and his face flashes expressions. As an actor, I have received compliments from people, but this is the first time I have been appreciated for my voice!"
Nizhalkal Ravi is happy that, so far, he has lent his voice only to two giants, "One, the lion of the jungle; the other, the lion of Indian cinema!"
Photograph: Sreeram Selvaraj