Advertisement
August 04, 2005 16:45 IST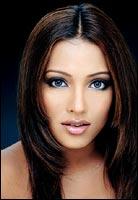 She pioneered the item-girl craze in music videos with her Kaliyon ka Chaman. Now, Meghna Naidu [Images] is trying her best to break into Bollywood. A Ganesh Nadar caught up with the voluptuous actress for a candid conversation on the sets of her new Tamil film, Veerasamy, directed by D Rajendran and currently being shot in Chennai.
Kaliyon Ka Chaman happened by fluke. I happened to accompany a friend of mine to her screen test for a music video. While she was shooting, the people at Universal Pictures asked me what I was doing. I told them I was shooting for a couple of movies in the South, and they said they would like to try me for a video. I dropped my photos with them and they called within 10 days. I did a screen test, and was selected the same evening. It became a huge success, and set a trend.
Meghna Naidu: 'I'm already booked'
I didn't do any music videos after that. I had already acted in Kannada and Telugu movies. My first Hindi movie was Hawas, was about an extra-marital affair. The next was Classic, where I played a dancer with Mithunda (Chakraborty). It was a fight between a dancer and a preacher who constantly put my character down in front of others.


| | |
| --- | --- |
| | More on rediff.com! |
| | |
Mashooka is my third film.
Though I had a superhit music video, a Yash Chopra [Images] would only sign a Kajol [Images], an established star. We are newcomers. They won't take chances with us. Even Subhash Ghai [Images] will not sign us. He has only begun working with newcomers recently.
I did my video three years ago, following which I was busy doing live shows and waiting for the right offer. I did four world tours in two years. All based on that one song! I made my money. I didn't give much importance to films then. The reason I did Hawas was that Karan Razdan wanted to direct his first movie with me. He was ready to take a risk, which is why I agreed.
I was born in Vijaywada (in Andhra Pradesh), and brought up in Mumbai. I once went to Chennai to attend a cousin's wedding. He happened to have quite a few filmmaker friends. One of them, from Hyderabad, wanted me to do a screen test. I agreed because I thought there was no harm doing it. I ended up bagging the film Premasakshi. I was 18 at the time.

I think my sex appeal is in my eyes. In a movie, on screen, the first thing that attracts an audience is the glamour. The dress you are wearing, or how good you look. But you cannot hold their attention with that throughout a movie. It is good acting that holds attention. A good costume will attract attention, but it is a good performance that holds it. Both are necessary for an actress.
'It's embarrassing doing nude scenes'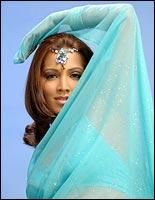 To ban smoking on screen is ridiculous. I don't think a person starts smoking because he sees Shah Rukh Khan [Images] smoking. It is his individuality. He will do it if he wants to. Smoking on screen will not affect the common man on the street.

The film industry agreed to ban smoking because it does not affect revenues. They just change the characters. If they were to ban our costumes, saying there should be no daring dresses or baring scenes, the industry would refuse to follow it. They won't ban skin. They would fight it because it would affect revenues. The number of people coming to see a movie would drop. 

I have another film coming up called Jackpot, opposite Himanshu Malik. It is about a marriage falling apart. Friends coax us to take a honeymoon, to a villa, where we find a bundle of money and a corpse. It changes from a marital problem to a suspense thriller.


All my movies have, so far, revolved around breaking marriages. But my next film, Rain, is different. I play a blind author who goes through a tortured childhood. There are only two characters in the movie, and the action occurs in one house. It was a good experience, and a tough one. Contrary to my image, I wear saris and salwar kameezes for most of the movie. I wear something sexy only towards the end, to test the guy's intent.

In my free time, I watch a lot of movies or go out to dinner. I love lazing around with friends. I have a younger sister working in the United States.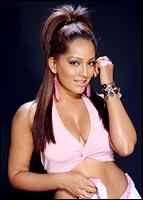 People have strange ideas about me. They think I am wild. When people in the industry first meet me -- whether they are photographers or producers -- they are surprised. They say 'You can't be Meghna Naidu!' They come expecting something else.


Initially, the selection of my movies went haywire because there was no one to advise me. No one told me I would be typecast in particular roles. After that, no one wanted to accept me in any other role.
D Rajendran, who is directing Veerasamy, is a one-man show. I think he has already sold the movie in most territories. Dialogues always rhyme, and he never gives the script before hand. It is a learning experience. He is very serious on the sets, and never jokes. Azeez is the hero. He hails from Mumbai. I have been shooting for it over the last four months. It will be released in September.