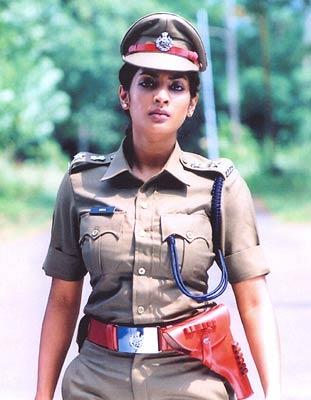 SS Music channel's zany veejay Shriya Reddy occasionally tries her hand at offbeat films.
Her first Malayalam movie -- after a disastrous debut in Telugu -- was the Mammootty-starrer Black, where she played a Tamil speaking villager. People were surprised when the channel's most glamourous veejay choose such an unglamorous role.
Now comes her second Malayalam film Bharat Chandran IPS, opposite Suresh Gopi, where she plays a police officer. Going by previews, the switch has worked. People are already comparing her to Indian cinema's ultimate police officer, Vijayashanthi.
The movie marks the directorial debut of noted scriptwriter Renji Panicker. As for Suresh Gopi, he attained superstardom playing policemen in Ekalavyan and Commissioner. Almost all his cop flicks were hits and he became so popular with children that they would point guns at people and shout the profanities (in English and Malayalam) Gopi mouthed in his movies.
When he was criticised by parents for polluting young minds, a hurt and conscientious Suresh Gopi put his gun down and took a break from movies. After a two year self-imposed exile, he makes a comeback of sorts with Bharat Chandran IPS.
Lots to look forward to, then. Interested? The movie is set for release on August 5.