April 29, 2005 13:08 IST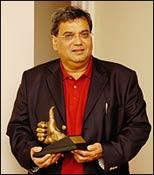 Subhash Ghai will not have anyone tell him his new film, the Vivek Oberoi [Images] starrer Kisna, is doomed. "I have just returned from Roger Ebert's 7th Annual Overlooked Film Festival (held from April 20 to April 24, in Illinois, US) where over 800 people came to see my (Aishwarya Rai [Images] starrer) Taal [Images]," he says from New York.
"Taal was a hit, but did I expect it to be chosen by a leading film critic in America and seen by 800 Americans at a festival, most of them white people, and that too four years after it was made? I am sure they were seeing a popular film from India for the first time. Even in India, many critics did not like the film."
Kisna, a shorter version of which will be screened at the Cannes [Images] Film Festival, could acquire a life of its own, he says. "Taal waited for years to get the recognition it received the other day (at the Overlooked Film Festival)."
| | |
| --- | --- |
| | More on rediff.com! |
| | |
The Overlooked Film Festival screens films from all over the world that Ebert, a Pulitzer Prize winning critic and television host, considers Western audiences overlooked.

Some movies screened this year, like Jacques Tati's Playtime, were more than four decades old. And some like the Anant Singh produced AIDS drama Yesterday were made just a year ago.

At the interactive session, someone asked Ghai how much making Taal had cost. "When I said $4 million, there was a gasp," Ghai says. "It looked like a $40 million movie, he (the person who asked the question) said."

A woman wanted to know how every dancer in the movie was so graceful. "That is how it should be," Ghai recalls telling the fan. "We believe in sensuality and not sexuality."

He was aware of the importance of sensuality when he was making Kisna too, the director adds.

"When I began to work on Kisna, I knew I was taking a big risk," he says. "But I felt it was worth taking. The failure of the film did hurt. But I know I did not make a bad film. Had I made trash and it had made a lot of money, I would not have been happy at all."

The Overlooked Film Festival experience has made him more determined to do "exactly the kind of films I want to do."

What next? "I do not know what my next project is going to be," Ghai says. "It could be an all-out comedy, a musical or something I have not tried before. "

But he has no intention of reviving Motherland, the Shah Rukh Khan [Images] starrer that never happened. "When I thought of it a few years ago, I was excited about it," Ghai says. "But then there have been quite a few films including (Yash Chopra's [Images]) Veer-Zaara with the India-Pakistan relationship as a background, and the subject does not interest me at all."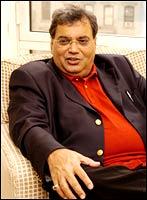 Is there a movie project he has been planning but feels he needs to wait for it to happen?
"For the last seven years, I have been thinking about a three-generational story," he says. "It will be a huge, huge film but I feel I need to wait for some more time to make it. It should be my magnum opus.
"I will need a few more months to decide on my next project but right now I am excited about the film school -- The Whistling Woods International Institute for Film, Television & Media Arts -- that will start functioning in less than a year (in Mumbai)."
Ghai, who began his movie career after graduating from the Film and Television Institute of India in Pune about three and half decades ago, says while he learned a lot at FTII, he was also unhappy with the bureaucracy and limited exposure to cinema.
"What we want to offer is a clean and healthy atmosphere where people will have to work very hard but enjoy what they are doing and blossom into excellent craftsmen and artists in about a year and half."
Many actors and directors in Mumbai get a break because they come from film families, he says. "But there are also many young people out there who have no connections and need encouragement to get started."
He did not have any connection to the film industry when he started, he adds. His first film as an actor, Umang (1970), was a flop and pushed him into direction.
"I did not know anyone in the film industry before I went to the Film Institute," he says. "But there was someone who gave me the best encouragement right at the start, and he had no film connections either."
His father, K D Ghai, a dentist, had noticed how passionate young Subhash was about a film career. "He surprised me by ordering for the Film Institute application and handing it over to me, telling me that if I am serious about films, I should get started soon."
"Whistling Woods will my true legacy," Subhash Ghai [Images] says. "What will I do with the money after a certain limit?"
Photographs: Paresh Gandhi