Home > Movies > Bollywood News

I wanted Ajay Devgan's role: Vivek

Syed Firdaus Ashraf | April 26, 2005 14:27 IST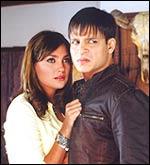 V

ivek Oberoi had a spectacular debut in Ram Gopal Varma's Company. He was hailed as one of the most promising actors, given the fact that he held his own against the brilliant Ajay Devgan.

Vivek's other film, Saathiya, also clicked at the box-office, where he shone next to Rani Mukerji in the Shaad Ali movie.

But that seemed to be the end of Vivek's winning streak, unless you count the multi-starrer mild hit, Masti. His duds, including Kyun...! Ho Gaya Na and Kisna, kept increasing at the box-office.

Ask him what went wrong with his recent films and he points out quickly, "All this is part of game. Hits and flops will always be there for any actor. Masti did so well. It was unexpected and clicked very well with masses. I believe in one principle: Do your work and leave the rest to God."
| | |
| --- | --- |
| | More on rediff.com! |
| | |
The actor will be seen in this week's release, Soham's Kaal. The film also stars Ajay Devgan, John Abraham, Lara Dutta and Esha Deol.

Vivek claims he almost missed the role in Kaal, and got in at the last moment.

"When the film was offered to me, I wanted to do Ajay's role," he explains. "But Karan and others advised me not to insist on the role as it was not the right time for me to do such a role. I agreed. But then, I had a date problem, and I could not do it. Luckily, everyone adjusted the dates and finally, I could do the film. Soham has created an interesting twist to my character."

Kaal

is jointly produced by Karan Johar and Shah Rukh Khan. SRK also does an item number with malaika Arora Khan in the movie.

The other star attractions in the film are the tigers, who earlier featured in the Hollywood film, Gladiator, starring Russell Crowe.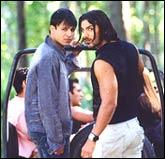 "I took their paw prints as autograph," Vivek laughs. "The three tigers were not tied (up) when they were acting with us. I just had to rely on the fact that the tigers were trained and would not harm us. Once a tiger got lost in the elephant grass, and we didn't know from where it would emerge! Thank God everything went well."
Vivek says he had fun shooting the film with Soham, who he has known for over 15 years. "He (Soham) stays in Juhu, near my place. We are like family. He has made Kaal with conviction. It is not a preachy and a boring pro-conservation film. It talks seriously on the need to preserve wild life but at the same time, it will entertain you."
After Kaal, Vivek will be seen in Sachin Bajaj's film with Sunny Deol -- a "cute comedy" called Home Delivery with Sujoy Ghosh (Jhankaar Beats) -- and fashion designer Manish Malhotra's directorial debut.
Recently, Tamil Nadu Chief Minister J Jayalalithaa said Vivek did not help tsunami victims as he had promised, and that it was just a publicity stunt.
Vivek shrugs it off. "I have worked sincerely for the people who were affected by tsunami. As I said, you help the people who need help and leave the rest to God. God is looking into these things."
Did he feel unlucky that whenever he tries to do good things, they backfire? "I don't know whether it is bad luck. All I can say is I am lucky I have never had any misunderstandings with my co-stars. When people say that I work for publicity, I ask myself a question: Did I do it because of publicity? The answer that comes from my heart is 'no'. I helped because I genuinely wanted to help. If others say good or bad things, it does not matter. I know what I am doing.
About his tsunami relief plans, he says, "As long as 150 orphans get homes, I will be happy. I am building a home for these orphans at Pattinicherry and I intend to go there after the work is completed. It was only last week that three boats left for Devanamapattinam and I am keeping a track of the work that is going on."


What do you think about the story?








Read what others have to say:





Number of User Comments: 3








Sub: vivek & sunami......

His help to sunami victims is important. I think vivek is nice person &very good actor, so he has no need of such kind of ...


Posted by nitin









Sub: Vivek Obroi

I dont believe what politicians say how many of them actually lived the horror of tsunami actually, and how many of them have lived its ...


Posted by Arun









Sub: Vivek helpin Tsunami Victims

Even if he helped the people "just" for publicity... then guess what ... he very well deserves the publicity. How many actors / politicains will ...


Posted by Nikhil N






Disclaimer