Advertisement
April 14, 2005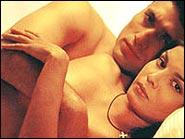 Shiny Ahuja's first film could have been Farhan Akhtar's multi-starrer Dil Chahta Hai. But it did not work out, and the controversial Sins turned out to be his debut.
The movie stoked controversy. Christian organisations lashed out at the story of a Catholic priest's (played by Ahuja) sexual relationship with a much younger girl.
Shiny, who refuses to give away his age -- he feels it will take away his roles -- will be seen next in Sudhir Mishra's political film Hazaaron Khwaishein Aisi.
| | |
| --- | --- |
| | More on rediff.com! |
| | |
Shiny speaks to Patcy N about his new films, Sins and why he had to run barefoot over stones in biting cold temperatures.

Farhan Akhtar had called me for Dil Chahta Hai [Images], and I was on the brink of being shortlisted for Akshaye Khanna's [Images] role. But then, they decided to work with a star.

My tape was forwarded to Sudhir Mishra and he called me for the audition. Hazaaron Khwaishein Aisi is the first film I auditioned for. Actually, I was offered another character in the film. But since my test went well, I told them I would like to audition for the main part. They told me it was already full, but I insisted. And I got selected.

I play Vikram, the protagonist. He's a small town boy, living in Meerut (in Uttar Pradesh). He goes to Delhi for further studies. His father is a Gandhian but he's just opposite. He wants to make it big at any cost. He falls in love with a girl (Chitrangada Singh [Images]) in his college. But the girl is in love with another man (Kay Kay), who wants to become a Naxalite. The film has a very strong political backdrop. It talks about the Emergency in 1975, and how it affected our lives.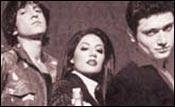 The shoot was smooth, but very hectic. We shot at a stretch and worked long hours. We shot for almost 50 days.
My first day was tough because it takes time to adjust to your character. But fortunately, I shared a good relationship with Sudhir before we started shooting. That helped a lot. He's a really good director. He's very helpful and creates the right environment for the actors to perform. He helps you build the character.
The movie has got good reviews in all the film festivals where it has travelled. Hollywood actors commented on my work after watching this film.
None of my scenes were difficult. But in terms of shooting conditions, the climax was difficult. It was shot in a field full of stones and I had to run barefoot. By the end of shooting, I had blisters under my feet. And next day, I had to do the same shot, barefoot, at 5 am, with a temperature of four degrees. That was the toughest scene.
I have been shooting for films for the past two years. Before that, I did ad films for Cadbury, Park Avenue, Peter England [Images] and Raymonds. I have also done theatre for five years. I have worked with Barry John and attended many workshops at NSD (National School of Drama). I have attended Mahesh Dattani's workshop also.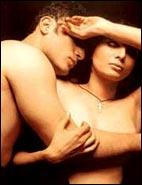 I used to do a lot of school plays. I got admission in my college (in Delhi) thanks to my acting. There were three seats reserved 'dramatic,' so I got in through that quota.
Vinod Pandey, who directed Sins, got to know about my work and he called me for the audition. I got selected. I was not apprehensive before taking up the role. It had a good script.
I don't want to speak much about Sins, as it is an old story. It is just another film that I did. Any actor would have jumped for the role. It had so many shades -- from being a man of God he turns into an obsessive lover.
My next films will be Kal, directed by Ruchi Narayan, and Agar, directed by Amit Saxena.