Advertisement
April 14, 2005 16:07 IST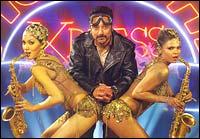 Kamal Haasan's bilingual, Mumbai Xpress has got itself into trouble over a raunchy item song by Raakhi Sawant and Moon Moon.
"I was asked to cut very silly things in (the) Tamil (version). And because of that, they were cut in Hindi too," Kamal fumes. "Raakhi and Moon Moon play sutradhars. They aren't present for titillation. Yes, they are in skimpy clothes. But is that such a shocker in our films? They play sisters called Greed and Lust, who live in the biggest slum of Asia.
| | |
| --- | --- |
| | More on rediff.com! |
| | |
"The censors asked me to cut that sequence because I called Mumbai a slum. They said it was because the two girls were so bare, it was unbearable. That isn't fair. They were dressed like circus trapeze girls. Mumbai Xpress is a family film. I was aware of my target audience when I cast the two ladies. The camera doesn't linger on their body parts. They cut an entire song. I'm going to re-apply for a censor certificate and talk to censor chief Sharmila Tagore about it. This is an infringement of my rights. Raakhi Sawant and Moon Moon wouldn't have put the mobs in a frenzy."

And there's more trouble brewing in Tamil Nadu.

Explains the harried producer-actor, "The agitators in Chennai want me to change the title. They don't want an English word in my film's title. But what about the fact that there are so many trains with the word 'express' in them? And should The Indian Express change its name to something more palatable to these so-called agitators? I was putting up a brave front but finally, I had to put my foot down."

Apparently, Kamal had an emergency meeting with Tamil Nadu Chief Minister J Jayalalithaa and she assured him the film's release would not be hampered.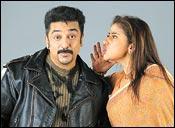 "She told me that anyone indulging in protests against the film's title would be considered a menace to the law and order situation," says Kamal. "I thought that settled it. But now, they've started defacing my vinyl hoardings of Mumbai Xpress in Chennai and its outskirts. We lost about Rs 3 lakh worth of vinyl. They also went to the theatres undertaking what they call 'democratic agitation.' What they did was threaten the theatres scheduled to screen Mumbai Xpress.
"They're interfering with the business of my film. They've literally torn the screens of some theatres which have been stitched back in time. We have 120 theatres in and around Chennai to protect. The chief minister's office has sent out messages to alert all stations. I 'd like to point out to these agitators that even our beloved leader MGR's acronym is in English.
"Our chief minister has asked my fans to hold their horses and not retaliate. I've told them that if someone spits on their face, just wash it off -- don't play Jesus Christ, don't turn the other cheek. But don't fall into the trap laid down by these agitators either. Now, I hear the leader of the 'Tamil Cheetah' group has issued a statement that my film's title is a non-issue. Delayed realisation," he says.
But the actor seems unperturbed about Tamil superstar Rajnikanth's [Images] film Chandramukhi releasing on the same day as the Tamil version of Mumbai Xpress. 
"Why should that be a bother?" he asks. "Sure, it's the first time in 14 years that we're coming together with our movies. But earlier, we've clashed at the box-office at least 13 times. It's nothing new. MGR and Sivaji Ganesan [Images] used to be involved in such clashes all the times. I hope both our films do well. Chandramukhi and Mumbai Xpress are as different as Kamal Haasan [Images] and Rajnikanth."