Advertisement
April 14, 2005 17:42 IST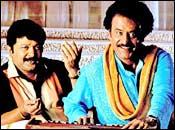 C

handramukhi starts unusually, with Tata Indicom welcoming viewers to see this Rajnikanth [Images] starrer. Then, Sivaji Ganesan [Images] is shown praying with his mother for his production company, the same way Prithviraj Kapoor is shown in an RK banner movie.

The story starts with a haunted palace and a 150-year-old legend. A cruel king lusts for a beautiful dancer, Chandramukhi, and forces her to be his mistress. But she continues her relationship with her true love. When the king finds out, he beheads the lover and burns her alive. But her soul lives on for revenge. A king-size snake, life-size portraits, jewels and costumes keep the legend alive.

Years later, Prabhu -- who is also the producer of the movie -- and Jyotika buy the palace and move in. Rajnikanth plays Prabhu's friend and psychiatrist, a doctor who never forgets he is a superstar. Mannerisms and dialogue delivery that never vary fill the rest of the film.

Surprisingly, it's Jyotika who dominates the show, not Rajnikanth. For most of the film, she plays her normal, mischievous self.

But she steals the scene when she lets out a blood curdling, 'Lakk...lakkk...lakk...lakkk...'

At the end, she reveals yet another aspect of her being. Truly an award-winning performance.

Rajnikanth fights like a superstar and talks like one. All the songs have at least one line to remind you he is a superstar. Even when they fly kites, the kites read superstar in the sky.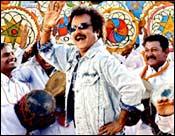 Prabhu is restrained, which is essential in a Rajni starrer. Everybody has to be restrained and come nowhere near the star. In one scene, Prabhu starts crying in such a manner that the audience is in splits. This is the son of Sivaji Ganesan, whose tears could cause a riot of emotions.
Nayanthara, who plays Rajni's love interest, looks lost most of the time but does a commendable job when she gets nervous and starts stammering.
Nasser and Vijaykumar have now become regulars in Rajni's movies, but comedian Gountamani is missing. In this movie, he is replaced by Vadivelu, who comes up with a great performance. His encounter with a ghost has the theatre rocking!
The movie has many firsts. The Tamil movie includes a Telugu song and Indian cricket captain Saurav Ganguly [Images] makes repeated appearances in billboards advertising Tata Indicom.
Besides, the movie has English subtitles. The producers clearly expect non-Tamilians to watch the film. Rajni has a huge fan following in Japan [Images], just as Raj Kapoor had a huge fan following in Russia [Images].
The music, composed by Vidyasagar, is good. There are quite a few foot-tapping songs, like Para para.
After Rajnikanth's previous release Baba, which was a disaster, Chandramukhi is a certain hit. The star will be happy, his fans will be happy and producer Prabhu will giggle all the way to the bank.
Download Chandramukhi ringtones!