Advertisement
April 12, 2005 13:09 IST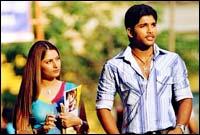 After twin hits Gangothri and Arya, young sensation Allu Arjun has teamed up with hotshot director V V Vinayak to come up with an anger-driven film called Bunny.
Like his uncle Chiranjeevi [Images], Arjun impresses with his intricate dancing. He flexes his muscles well, and also displays good comic timing. But for his third film, Arjun has unfortunately chosen a familiar plot.
The Polvaram Dam project issue could have been handled a bit seriously, rather than in a superficial manner just to trigger conflict.
Vinayak -- who delivered blockbusters like Aadi, Samba and Tagore to join the 'star directors' club --  has packed Bunny with enough dances, action and comedy. But he should have looked harder for a novel plot. Belying high expectations, he has ended up making an age-old revenge drama.
| | |
| --- | --- |
| | More on rediff.com! |
| | |
The young filmmaker probably wanted to showcase the anger of the dancing star Arjun but he should have opted for a action-centric concept to justify the action.

New girl Gowri Munjal [Images] looks pretty but falls short in the acting department. 

Tamil star Sarath Kumar plays an idealist 'guest role' to perfection, while talented actor Prakash Raj [Images] plays the baddy with aplomb yet again.

Among the comedians, Raghu Babu stands out with his punchlines; M S Narayana, Venu Madhav and L B Sriram give him good support. 

Composer Devisriprasad, working with Vinayak for the first time, impresses with his youthful numbers and apt background score. Deviprasad will probably have a long innings with the sought-after director.

Top-rung lensman Chota K Naidu captures some breathtaking visuals, and his picture-perfect lighting deserves kudos.

But overall, Bunny is strictly for viewers who leave their thinking caps at home. Allu Arjun's effortless dancing and fights could be in vain, thanks to the boring theme.

On the other hand, he could be branded a 'star' if he can pull a dud like this through.