Advertisement
April 04, 2005 17:24 IST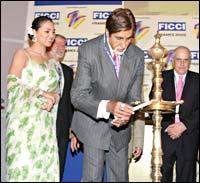 According to Federation of Indian Chamber of Commerce and Industry estimates, the movie industry suffered nearly Rs 1,200 crore in losses in 2004, thanks to piracy.
And at the inaugural day of FICCI Frames -- an annual function that looks into the interests of the Indian entertainment industry -- on Monday, every speaker underlined the need to tackle the piracy issue.

"The Tamil Nadu government passed a strict law to tackle the piracy issue, and the result was extremely good," said Yash Chopra [Images], chairman, FICCI Entertainment Committee. "The sale of tickets in theatres rose by nearly 200 percent. I have sent a copy of these facts to all the respective state governments. I sincerely believe that all the states should tackle this issue seriously."

The three-day function will be attended by over 1,500 delegates who have come from the US, Australia, Pakistan, China and many other countries.

Piracy will kill the entertainment business, screamed
| | |
| --- | --- |
| | More on rediff.com! |
| | |
advertisements highlighted all over the auditorium's screens

Amitabh Bachchan [Images], however, was hopeful. He said no amount of piracy could stop people coming to theatres. "The enjoyment of seeing a film on big screen is a different experience compared to that on a pirated VCD or DVD," he said.

He was also very hopeful about the future of Indian cinema. He said it had the potential to overtake Hollywood by the year 2020.

"We produce 800 films (a year) and that is four times what Hollywood produces," Bachchan said. "People say that we had the golden era of cinema in the 1950s but I feel now we have an era of experimentation. Everybody is trying new things. New subjects are being explored and nothing is taboo."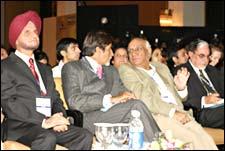 Information & Broadcasting Minister Jaipal Reddy informed the audience that he had called a meeting of all state information ministers on April 16 to deal with the piracy issue.

"Piracy is not only a criminal offence but also an ethical and aesthetical offence," said Reddy. 

Daniel Glickman, President and chief executive officer, Motion Pictures Association of America, said, "Piracy is a serious crime and it is resulting in huge losses. These pirates are damaging society by not paying taxes to the government. Piracy can destroy both Hollywood and Bollywood industry and I really urge that something urgently needs to be done to tackle this issue."

Photographs: Jewella C Miranda