Home > Movies > Interviews

The Rediff Interview / Suresh Gopi

Rebel star has new image

Shobha Warrier | September 17, 2004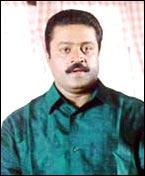 A

kshara and Anathu were denied admission to a school in Kottiyoor near Kannur, Kerala, because they were HIV positive.

What has Malayalam superstar Suresh Gopi have to do with them?

On reading about their daily trip to the school, only to be driven back by the parents of other children, Gopi went to the school, carried the two kids, walked around, kissed them on their cheeks and cuddled them before pleading with people, 'Please look at these children as your own. You won't become HIV positive by merely touching them. Please accept them as part of the society.'

The man who gunned down villains in film after film, who mouthed strong expletives liberally, has become a social crusader.

Just before winning the National Award for the film, Kaliyattam, he had told rediff.com he was hurt and tired of being accused that he was a bad role model for youngsters.
| | |
| --- | --- |
| | More on rediff.com! |
| | |
The transformation has been dramatic.
Now, he is acting in fewer films and working for more social causes. Just before the Lok Sabha election, it was rumoured that he would contest the election on a Congress ticket. But it was not to be. He continues his work as a social crusader, and the latest is his involvement with Akshara and Anathu.
In this interview with Contributing Special Correspondent Shobha Warrier, he talks about his new avatar.
You seem to be interested only in social work, not films anymore. Are you moving towards a political career?
Social work and politics never go together although the intention behind politics is social work.
I think politics has deviated from social work. So the rumour that I am moving towards politics is not true.
Yes, I have political aptitude and attitude too. But I would say cinema has created a ground for both social service and politics.
It is not that I am not interested in films. I think every individual has to go through these phases in life.
I had been involved in social service without anybody's knowledge for a long time.
In this new phase of my life, I have decided to do it openly. That is the only reason why everybody is talking about the work I do now.
How are you involved with social service organisations?
I have been actively involved with Jose Maveli's Jana Seva Sishu Bhavan in Alwaye for sometime now. The organisation has grown so big that whenever a lost child is found, they think of Jana Seva.
If you ask me how much money I have given to Jana Seva, it is not much. But my involvement is so well known that many people have started associating with the organisation.
Last year, I got involved with an organisation called Adarsh that has treatment projects for mentally challenged children like music therapy, educational therapy, etc. It was housed in a run down building till recently. But after we raised money through a music program, we could buy 45 cents of land. We have already started constructing a building with the help of some NRIs in the Gulf region.
I am also involved in an orphanage for girls and women called Mahila Mandiram where we are planning an SOS kind of village. Our plan is to have one mother for 10 girls, and all of them will live in a cottage which you can call their home. This village will have cattle, chicken, vegetable farms, etc. In short, they will be self sufficient.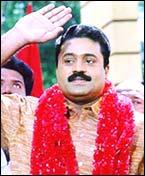 What is your role in these projects?
My role is that of a facilitator. The name Suresh Gopi helps.
The people of Kerala have given me a stature, a name, and this is my way of repaying them for the love they have given me.
I am using my name to help these people collect funds and attract more people.
People have faith in me. So I am very careful about the organisations that I am involved with because I am selling my name.
I pray to God every day that all the organisations I am involved with are genuine.
When did the realisation strike you that you have to give something back to the people who made you a superstar?
Let me correct you. I want to give everything back to them, not just something. I grew up watching my father helping people in his way. Maybe that is why I am doing all this.
There is a National Award winning producer in my hometown, Ravi, (who produced almost all of the late G Aravindan's films, and some of Adoor Gopalakrishnan's films). He has invested what he earned from films for the people of Kollam.
I also come from the same place. When I was young, I wondered why he was constructing public libraries for the people when he could have given the money to his children. But he chose to give all that he earned from films to the people, and his children got only what he made from his business.
Another person who has influenced me is Rajnikanth. I am an admirer of his ideals. I have also heard stories of (the late Malayalam movie legend) Prem Nazir's philanthropic work. I can never be like these people but I will try my best to be of some use to the society.
Why don't you act in films these days?
I have not stopped acting.
Hereafter, I want to be an actor, not just a commercial artiste.
I have absolutely no plans to stop acting.
I am able to do social service only because of the name I gained from acting. So how can I forget films and acting?
Acting and cinema are still a passion for me. I am what I am only because of films.
The other day, the public relations department of the Kerala government asked me to act in a small film to spread a social message. Why did they choose me? Because I have a name.
Do you feel vindicated? Once you were criticised quite harshly for spoiling children through your films.
Definitely. This is sweet revenge for me. I was very hurt in those days. Those who criticised me without knowing who I am will have to do a lot of penance!