Home > Movies > Bollywood News

To Amitabh with love

Sheetal Seth | September 17, 2004 16:26 IST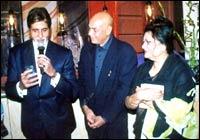 A

mitabh Bachchan has yet another book being written about him.

Amitabh and I

is written and published by Anwar Ali, the younger brother of the late comic legend Mehmood, and his wife Mona Mathur Ali.

The book was released by Mumbai's Chief Income Tax Commissioner Urvashi Saxena on Thursday, September 16.

This is what they said at the launch:

Anwar Ali: My role in Amitabh and I has been that of penning instances of my life and times with my friend Amitabh. Our journey together as friends, the impact the environment had on us and the deep relationship we have shared.
| | |
| --- | --- |
| | More on rediff.com! |
| | |
Mona Ali: The book includes moments they (Amitabh and Anwar) spent with (Bachchan's father, the late Hindi poet) Harivanshrai Bachchan, the way they lived together as a family in the early days of their careers and a collection of illustrations.
Amitabh: This book has come as a surprise to me. I was totally unaware that this book was being done. I haven't read the book so I really don't know what Annu (Anwar) has written. I hope he has kept all the naughty things out because we spent a lot of time doing some naughty things, when we were both bachelors!
This book is dedicated to Annu's brother (Mehmood) and my father -- two people who we were both very close to. We learnt a lot from them.
Amitabh And I is priced at Rs 999.
Photograph: Jagdish Aurangabadkar


What do you think about the story?








Read what others have to say:





Number of User Comments: 1








Sub: Wishing you on your 62nd Birthday

Hello Amitji, A very "Happy Birthday" to you and many many happy returns of the day. Wish you a long, happy and prosperous life. With ...


Posted by Avijit Nag






Disclaimer