Home > Movies > Bollywood News

Ash goes Balle Balle!

rediff Entertainment Bureau | September 15, 2004 16:42 IST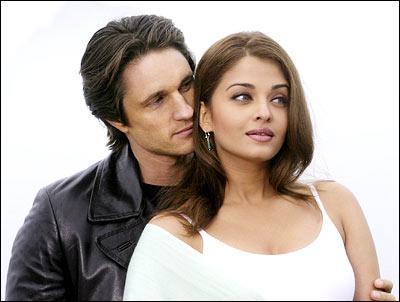 Aishwarya Rai's latest film Bride And Prejudice will now be called Balle Balle! Amritsar To LA. 

Don't get us wrong.

Balle Balle! Amritsar to LA will be the film's Hindi title!

Director

Gurinder Chadda has arrived in Mumbai and is expected to announce the title at a press conference next week.

Bride And Prejudice will be Ash's first international film.

Producer Deepak Nayyar says Balle Balle! Amritsar to LA was chosen because the film has a song with that line.

"We felt this title would suit the Hindi version," says Nayyar.

Chadda's blockbuster Bend It Like Beckham had a whacky title too for its Hindi version -- Football-Shootball Hai Rabba! The director says she absolutely loved it.

Besides Ash, Bride And Prejudice stars Namrata Shirodkar, Sonali Kulkarni, Meghnaa Kothari, Peeya Rai Choudhary, Nadeera Zaheer Babbar and Kiwi actor Martin Henderson (above, with Ash).

Anu Malik has composed the music, and like Ash, he hopes the film will be his launch pad for Hollywood projects.

"People have loved my work," he says, "Many in the US want to work with me. I have signed an agent who will look out for more work for me there." 

Bride And Prejudice will be released in India and the UK on October 8.





What do you think about the story?








Read what others have to say:





Number of User Comments: 5








Sub: Ash's new movie

Hey, Ash's movie Bride and Prejudice is releasing on 8th Oct. and thats my BDAY!!! so..will be watching that movie for sure..moreover Ash is my ...


Posted by Surbhi









Sub: WHY ONLY ASH??

Its completely unfair that Gurindher Chadha's Bride & Prejudice should ONLY boast of Aishwarya Rai.. when it has TWO other Indian actresses in it!! Arent ...


Posted by Maya









Sub: hay whats the procedure of acting

hay iam from delhi iam 22yrs male model guy i have many still shoots and ramp modelling i have also done 1 serial i want ...


Posted by ashish









Sub: stupidity

I find all this scene of balle balle sheer nonsense and stupidity. the project looks very cold .


Posted by jeet









Sub: Ash's looks

wow what a beauty.she looked superb,she danced well in garba night with mr.koli.


Posted by Aakhya






Disclaimer