Home > Movies > Bollywood News

'I cannot make a film in Hollywood'

Arthur J Pais in Toronto | September 13, 2004 16:03 IST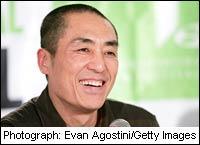 Once upon a time, not too far away, Zhang Yimou made movie gems like Raise The Red Lantern, Red Sorghum and Ju Dou.
His last two films, House Of Flying Daggers and Hero, were made on a lavish budget.
Hero cost $30 million, and is the most expensive film ever made in China.
The martial art sagas, filled with spectacular action shots, intriguing characters, and dazzling costumes, are such compelling dramas that nobody seems to mind that Zhang is not making small films anymore.

But the director has a surprise for his admirers.
"I want to make a film about the Cultural Revolution in China," he told a press conference at the Toronto International Film Festival, where House Of Flying Daggers received an ecstatic ovation.


| | |
| --- | --- |
| | More on rediff.com! |
| | |
"I was in my teens when so many interesting things happened," he continued. The subject of the new film will be "very sensitive."

Young Communists went on a rampage in the late 1960s and early 1970s attacking all symbols of lingering personal freedom, sending thousands of people to camps and destroying books, music and paintings considered to be individualistic.

Zhang, 52, who upset the Chinese government with Red Sorghum and Raise The Red Lantern about a decade ago, seems to have become a favourite son with his last two films.

A journalist asked him about his popularity with the government, whether the Chinese government has changed its mindset or had Zhang become a different person, the director sighed. "I'm the same person," he said. It was because his last two films did not deal directly with politics that he had no trouble from the government.

There was another reason why he chose the Cultural Revolution as the subject for his next film. "I like to try different genres," he said enthusiastically. "It's difficult to shoot two films (Hero and Daggers) in such a short period of time."

"After that, I feel like I am getting addicted to shooting martial art films," he chuckles.

His last two movies have become big

box-office hits too. While the two-year-old Hero is heading for a $200 million gross worldwide thanks to the big money it is making in America after a belated release, House Of Flying Daggers has made over $40 million in Asia and will be released in America and much of Europe in December.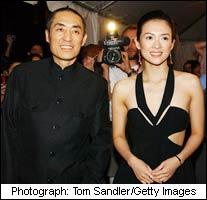 Set in 9th century China and revolving around a young female rebel (Zhang Ziyi), the movie offers a mix of martial arts and ballet. In the action sequences -- that is more eye-popping than in Hero -- combatants, including the young heroine, float through the air while arrows rain down like with alarming speed. Duelists chase one another through treetops for several minutes. The highlights also include an amazing dance sequel by Zhang Ziyi that produced hundreds of gasps at the Toronto screening.

The reason why his films -- and Ang Lee's Crouching Tiger, Hidden Dragon -- caught on in the West too and went on to be nominated for top awards, Zhang said was because they had dramatic depth. There was much more than action in their films, he added.

Zhang, a slightly built man with cropped hair, ponders over questions for several minutes before answering them in Mandarin. He is always accompanied by a translator for interviews.

The three main characters in the House Of Flying Daggers suffer at the end of the film. Did he mean to punish them because they sought their personal happiness over their commitment to a cause?

"No," he said firmly. "We had planned Hero and Daggers around the same time over three years ago. Both films are about sacrifice. In Hero, the sacrifice is for a cause. But in my new film, the lead characters sacrifice for love."

Did he agonise over the climax of House Of Flying Daggers? The love triangle headed in several different directions in the last 15 minutes.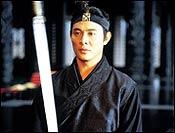 Zhang had to decide whether the choice would end up in happiness or tragedy. In the end, he said, "We wanted to surprise people. We also wanted to heighten the suspense."

He readily confessed that directing a martial art film was not a radical departure for him. "Any Chinese male director will have the desire to direct a martial art film," he said. Since the best martial art books in Chinese were optioned by other filmmakers, he set out to create, with his colleagues, original stories, Zhang said.

Hero and House Of Flying Daggers were meant to be one film, he revealed, but it proved to be too much material for one film.

The wide box office success of Hero was "a pleasant surprise" to Zhang, and he acknowledged that the success raised expectations for House Of Flying Daggers.

Has Hollywood come knocking on his doors?

"I cannot make a film in Hollywood," he says. "I do not know English. That means I will make only Chinese language films."