Home > Movies > Bollywood News

Where is Al Pacino?

Arthur J Pais in Toronto | September 13, 2004 17:08 IST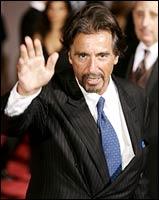 Unlike his buddy Dustin Hoffman, who enjoys attending film festivals, Al Pacino prefers staying away.
Which is why many reporters were pleasantly surprised to find his name on the press conference list for The Merchant Of Venice, a high profile entry at the Toronto International Film Festival.
Pacino plays Shylock, demanding his pound of flesh from the bankrupt Venetian trader (Jeremy Irons) who owes him money.
On Friday, Pacino's name was quietly withdrawn from the list of participants.
The festival had already lost reigning Oscar star Charlize Theron, who is recovering from a neck injury she suffered last week while shooting the sci-fi thriller Aeon Flux.
Dozens of stargazers, who wait for hours outside hotels such as the Drake and Four Seasons for autographs, will still have a busy time.
The 29th edition of the film festival, which is showing 253 features and 75 shorts and runs through September 18, has already brought a number of big names to the city. Annette Bening came with hubby Warren Beatty for the premiere of her film Being Julia, based on a Somerset Maugham novel.
Though there are people like Hoffman, Sean Penn, Sandra Bullock, Nick Nolte and Susan Sarandon in town, the bigger attractions are younger stars like Orlando Bloom and Penelope Cruz.
As no official reason was given for Pacino's change of mind, speculation ran wild.
Some believe he was so fed up with the Venice Film Festival, where The Merchant Of Venice premiered, that he had sworn off festivals.
The Venice event, one of the most prestigious in the world, was marred by chaos during the first couple of days. It was overbooked for the premiere, apparently on account of a computer glitch, which led to Pacino and several people in his entourage not getting seats allotted to them.
Journalists in Toronto were predictably disappointed over Pacino not showing up. Many were eager to grill him on the portrayal of Shylock, which, according to some observers, still struck a negative note.
Photograph: Getty Images