Home > Movies > Bollywood News

Will Jamie Foxx get an Oscar?

Arthur J Pais in Toronto | September 13, 2004 16:23 IST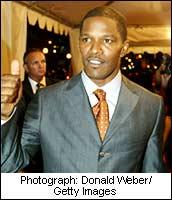 Listen to the buzz at the Toronto International Film Festival and you would agree that Jamie Foxx is firmly headed for an Oscar nomination with Ray, his portrayal of legendary blind singer and musician Ray Charles.
Many believe Foxx could also get a Best Supporting Actor nomination for his work as a hijacked cabbie in the gritty hit Collateral.
The actor said he accepted the Oscar buzz "in the sense of that it brings more attention to the project (Ray)."
The buzz at the 29th edition of TIFF has it that the independently produced film will get a raft of Oscar nominations, including the Best Film and Best Director categories.
Old-fashioned, but nonetheless riveting, Ray, directed by Taylor Hackford, opens across America on October 29 through Universal Pictures.
It is a deeply affecting film, not only about a musician but also about the human condition. And it captures a fast changing America in which Ray Charles music played an important role in challenging segregation over four decades ago.
The movie deals with the most daunting period in the life of the soul singer, when heroin addiction and numerous affairs almost ruined his career and family life.
Ray Charles, who became blind when he was about seven and died in June at 73, was involved with the project right from its inception 15 years ago, Hackford said at a press conference in Toronto. When asked if he felt limited as a filmmaker in any way because Charles was not only alive but also consulted, Hackford said "never."
He recounted a conversation he had with Charles during the making of the film, which also has Charles' son as one of the producers. "He [the father] said 'I'm no angel, and I don't want to be painted as an angel. Just tell the truth.' He had enough security in and of himself to know that he was a great artist."
Most Hollywood studios, except Universal, refused to buy the film even after it was completed, Hackford revealed, adding that the film -- which reportedly cost about $40 million -- would have cost two times that amount had it been a regular Hollywood product.
"Hollywood does not like biopics," Hackford said, "they like black biopics even less." The director added that the failure of films such as Ali had scared Hollywood.
At the press conference, Hackford, a Caucasian, was surrounded by four actress and Foxx, all African Americans. When he was introduced, Foxx spontaneously stood up and cheered the director. Later, he told journalists that black actors made some compromises while acting in films about black experiences directed by whites. But, he said, Hackford wanted the real experience to be conveyed on screen.
"I have to say this: Mr Taylor Hackford has done a wonderful job on this movie. He took a chance in how he cast it and he fought for it. But he also listened to us. We know our black experience, and he listened. He makes the movie come alive."
Hackford talked at length about his involvement in the film. "I got the rights [for the project] 15 years ago, and thank goodness it took that long to make, because I couldn't imagine anyone but Jamie in the role."
In order to play Ray Charles, Foxx, 36, wore prosthetics for a month to look and behave like a blind person. He also lost 30 pounds for the role and spent many days with Charles before filming began.
Foxx says he was not interested in imitating the legend. "It was a matter of getting the nuance of Ray Charles, as opposed to doing an impersonation," he explained.
The actor, who became popular for his comedic roles on the variety show In Living Colour, is a classically trained pianist. At university, he started playing Charles classics like Georgia On My Mind. He said his biggest challenge was to embody Charles' every nuance. And then, for about 10 minutes, he imitated Charles moving his shoulders and telling the drummer to keep time to his body.
"Drummers would go crazy watching him, trying to find his beat," Foxx said. He recalled playing piano with Charles at the latter's home. Foxx was able to keep up with the jazz and blues when, suddenly Charles decided to throw in Thelonious Monk.
"I hit a note, and Ray looked at me, quite seriously, and said, 'why did you hit that note?'" Foxx recalled. "And I didn't know. And he shook his head and said, 'the notes are underneath your fingers.' And that was his metaphor for life."