Home > Movies > Bollywood News

'He didn't make films. He made poetry'

A Ganesh Nadar in Mumbai | September 07, 2004 18:15 IST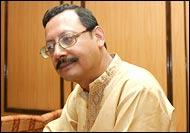 I always felt Guru Dutt was not given the respect he deserved," says his niece, director Kalpana Lajmi.
That was when he was alive.
After his death that gloomy October morning 40 years ago, Guru Dutt has become an icon, revered by filmmakers across the country.
On his 40th death anniversary on October 10, the post office will honour him with a stamp.
This will be the 12th stamp honouring a film personality since 1971.

His son Arun Dutt (above, right) also plans a grand celebration at Mumbai's Grand Maratha Sheraton hotel to celebrate the 50th anniversary of the banner Guru Dutt Films.
| | |
| --- | --- |
| | Guru Dutt on rediff.com! |
| | |
Arun Dutt said the golden jubilee of Guru Dutt Films would be commemorated by compiling a two-and-a-half-hour package of scenes and songs from his father's films, to be enacted and sung by today's actors and singers.
The show, to be hosted by actor and television host Annu Kapoor, will showcase various phases of Guru Dutt's life.
At an event on September 4, Guru Dutt's sister Lalita Lajmi, her daughter Kalpana Lajmi, composer Bhupen Hazarika, Meenu Mumtaz (the late Mehmood's sister) and others spoke about their relationship with the director of such films as Chaudhvin Ka Chand, Pyaasa and Kagaaz ke Phool.
"I am very happy they are finally coming out with a stamp for him," says Kalpana Lajmi. "This is due to the efforts of Bhupen Hazarika and (former minister) Arun Shourie. We are trying to round up all the people who were involved with Guru Dutt Films. This would also include heroines, and the people involved in filmmaking."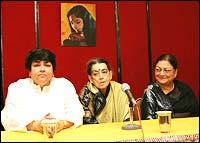 Adds Meenu Mumtaz, "It feels he is here with us. It was always fun to work with him."
Revealed Hazarika: "Arun Shourie said there were 60,000 people waiting to be honoured with a stamp. As he was a admirer of Guru Dutt, he helped us. What would have needed a year to come through, Shourieji got done in a month."
"When we were young, Guru Dutt was a cult figure in Europe. He learnt dancing as he was interested in it. Today's filmmakers can learn a lot from his films. Dev Anand said he would come on the 10th (of October). He said both he and Guru Dutt received a salary of Rs 150 in those days. He did not make films. He made poetry," says Hazarika.
Says Annu Kapoor, "There is a guru in his name. He was a filmmaker, not only a director. I am not his fan. I am his devotee. I always wanted to pay tribute to him. I am always prepared to do a show for Guru Dutt, Bimal Roy and the other legends."
QUICK FACTS ABOUT GURU DUTT
Born: July 9, 1925.
Education: Matriculated from Kolkata in 1941.
Learnt dancing at Uday Shankar's Art Academy in Almora from 1942 to 1944.
Joined Prabhat Film Company, Pune, in 1944 to learn filmmaking.
Died: October 10, 1964
Photographs: Jewella C Miranda


What do you think about the story?








Read what others have to say:





Number of User Comments: 7








Sub: True...he was a poet...

Kaaghaz ke Phool remains a classic even today . People today marvel of the use of light and shade in picturising songs...but Guru Dutt used ...


Posted by Balaji S. Reddie









Sub: A Tribute to GuruDutt

Film making was a passion for him.A master craftsman,Kagaz ke Phool was an epitome of film making The song Bichade sabhi bari bari is philosophical ...


Posted by ARUN KUMAR SHRIVASTAVA









Sub: Guru Dutt's work is poetry indeed

Guru Dutt's work is poetry indeed. I am glad to see this celebration has come, even though it is atleast 30 years too late. He ...


Posted by lgaur









Sub: Restoration needed

What Dutt's films need most now are restorations with the latest technology. The print of Pyaasa I saw was horrible. There is no good DVD ...


Posted by M. Hafner









Sub: A LEGEND

Sir, In almost all institutes teaching film making the films made by GURU DUTT are discussed in lenght in all its aspects. Isn`t it a ...


Posted by vijay






Disclaimer