Home > Movies > Bollywood News

'Working with Salman is out of the question'

Subhash K Jha | September 06, 2004 14:30 IST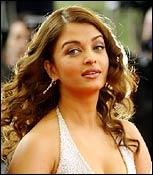 W

ith her first international film, Bride And Prejudice, ready for release, Aishwarya Rai seems to be a popular choice for the covers of British magazines.

Besides Hello, Ash has also appeared on the cover of the UK-based Bollystan magazine.

Tell her about it and she laughs, "Is that me? The girl who can't pronounce 'nudity'? I guess they were hell-bent on proving me a prude. If I am one, I am one. I make no apologies about my inhibitions."

The actress will also find a wax replica of herself in London's Madame Tussauds, becoming the second Indian actor -- after Amitabh Bachchan -- to be featured there.
| | |
| --- | --- |
| | More on rediff.com! |
| | |
Back home, rumours about Ash signing a new film with former beau Salman Khan have been making the rounds in Bollywood. But the actress brushes them aside.

"Working with Salman is out of the question," she says. "And you can quote me on that! When I issued that

statement ending my association with him, I was in hospital with a fractured foot [Ash was injured on the sets of Rajkumar Santoshi's Khakee]. I wrote that statement from my hospital bed where I had lots of time to think about what I was doing. I am not the kind of person who would reverse her decision to suit her purposes. The question of going back on my words just does not arise."

"Come on! I let go of the chance of working with Sanjay Leela Bhansali to stand by my convictions. Why would I change my mind for a lesser film?" she reasons.

"I put on weight in the hospital. Gurinder Chadha wanted that filled-up prosperous look for Bride And Prejudice," she continues. "Then, Rituparno Ghosh wanted the same look for Raincoat. In that film, I look a khati-peeti housewife," she laughs again.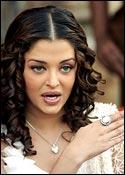 Ash's last release, Samir Karnik's Kyun! Ho Gaya Na..., saw her opposite Vivek Oberoi. But their real life romance could not save the film. Yet, every director from Shyam Benegal to Indra Kumar wants to cast Ash in his next film.
Recently, Ash turned down Santoshi's new film, Autograph. But Ash reasons, "Rajji and I go back a long way. He has been coming to me with every film since China Gate. For some reason or the other, I could not work with him. Finally, I HAD to say yes to Khakee. And I don't regret it at all. I had 20 days free time and I loved doing the film.
"Now, these headlines scream that I have turned down Autograph. Autograph was one of the projects Rajji discussed with me, but we mutually agreed that it wasn't the right vehicle for us to collaborate on. Working with directors like Rajji, Rituparno Ghosh and Sanjay Leela Bhansali is an experience beyond belief. When I do, I like to surrender myself completely to them. Rajji and I are coming together very soon for a big film.
"As for Sanjay, we met recently again. I did spend an evening at his place. But not for work. I don't know how stories that I met him for a film came out in the press. I'm not the kind of person who meets an old and dear friend with an agenda. Of course, I'd love to work with Sanjay again. The magic he created with me in Hum Dil De Chuke Sanam and Devdas is unbelievable and unparalleled. I'm sure we will come coming together somewhere down the line."
As for the astronomical amount she was reportedly offered to become the international brand ambassador for L'Oreal, the multi-billion cosmetic company, Ash shrugs it off. "I'm already the brand ambassador for L'Oreal. I heard about their supposed plans to replace another model with me through an Indian journalist, who claimed to have read it in an international publication. I have neither read this news nor have I been approached with any such offer by the cosmetic company. As usual, the press seems to know more about my activities than me."


What do you think about the story?








Read what others have to say:





Number of User Comments: 48








Sub: They enjoyed,they got bored

They enjoyed,got bored. Ash wants different.So why should we bother.Its her decision.


Posted by Gurunath









Sub: Salman...and Ash

What is the hullaballoo over Salman and Ash? He is a pathetic actor and one of the most overrated "stars" of the Hindi film industry. ...


Posted by Sunil









Sub: what the hell are we doin' ?

everyone who has posted a message . me included.... have nothing better to do than think abt so called stars and their private lives. Let's ...


Posted by sensible









Sub: about aishwarya and SALMAN KHAN

hi! i cannot undestand why aishwarya is mouthing these statements that she is'nt working with salman anymore! aish please look at your carrer ,all u ...


Posted by rahul









Sub: Ash not worth for a wax image

Everything is fine, whether she works with salman or not.. but she is not worth to have a wax replica in london Madame Tussauds . ...


Posted by sarvana kumar






Disclaimer