Home > Movies > Interviews

The Rediff Interview / Anupam Kher

'The way I was sacked smacks of goondagardi!'

October 21, 2004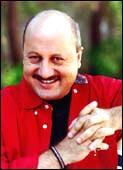 L

ike the upright citizen that he played in his debut film Saraansh, Anupam Kher is currently fighting a battle against political forces that he thinks are out to disrupt our society's moral fibre.

It's not the unceremonious dismissal from the post of chairman of the Censor Board, it was the underlining implications of the move that perturbed the actor.

Kher speaks out to Subhash K Jha.

Some documentary filmmakers have called you repressive as Censor Chief.

That shocks and pains me. I don't know these people.
| | |
| --- | --- |
| | More on rediff.com! |
| | |
Unfortunately, in this country, a documentary filmmaker's only claim to fame is controversy. We have to look at their motives. The charges sound damning. But they are lies.

These charges can't dampen my spirits. They claim I gave the documentary Final Solution a hard time when, in fact, the film wouldn't have been passed without my intervention. They accused me of hounding the film. They forget the chairperson of the Censor Board doesn't look at every individual film.

They should be thankful that I took personal interest in Final Solution, otherwise no amount of pressure would have got it cleared. Even the revising committee had objections. I told them to forget their reservations and pass the film.

For me, as the censor head, the rules are the same for a documentary filmmaker like Rakesh Sharma and feature filmmakers like Subhash Ghai, Indra Kumar and K D Shorey.

Many years when T N Seshan was a hero, I asked him what gave him the power to take on corruption. He said it was the rule book which he could throw in any politician's face. Contrary to what the documentary filmmakers say some good things have happened to their destiny during my tenure in the censor board.

Final Solution

and Michael Moore's Fahrenheit 9/11 were passed uncut. Nevertheless, since they have access to higher powers, they feel they have the right to shoot off letters of protest for imagined insults.

They say Final Solution was cleared due to outside pressure. Let me tell you, no official, least of all me, can succumb to pressure that goes against the rules.

No, Final Solution was passed solely because of Anupam Kher. I feel these docu-makers have no issue, so they're manufacturing one.

There are producers whose films are stuck in the censors even after their release date is announced.

How can a Subhash Ghai film be judged by the same yardstick as K D Shorey?

I am sorry, but that's the way it is.

During my tenure, I saw only two films, one of which was K D Shorey's Dharm Shakti. The Censor Board banned it for being anti-medicine. I intervened and got it passed.

There's a process for censorship and Rakesh Sharma applied for a censor certificate for his documentary, Final Solution. The examining committee stopped the film. Then he had to apply to the revising committee which he didn't do. Instead, he wrote a complaint to me. I was out of the country then.

I saw his letter after a few months. I treated his letter as an application to the revising committee. He claimed 5,000 people had signed his letter of protest against the revising committee's decision. But there were just three or four names on the letter. One of them was Shabana Azmi's.

I asked her to be on the expert panel to view Sharma's film. She couldn't come. Sharma said he couldn't afford the screening. So I arranged the screening for the experts at my own cost and paid for snacks. This, in spite of the fact that I was asked by some people how a film like Final Solution about communal riots can be passed when they have the power to influence people in the smaller cities.

On a personal level, I agree with that. The media in the metros won't understand how minds work in the non-urban areas. Still, I made a speech defending the film before its screening for the experts and insisted that it be passed without a single cut. Sharma was shocked. He said he wanted to salute my historical decision.

But after the whole controversy, documentary maker Anand Patwardhan gatecrashed into a press conference in Mumbai to read out a letter welcoming my ouster as a censor chief. One of the signatories was Rakesh Sharma.

But why?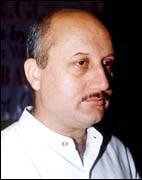 I think he was disappointed that I passed his film. I took away the limelight from his intended struggle. I felt so betrayed. This is the same man who saluted me for supporting his film!
These are people who talk of issues. Don't forget I am from a persecuted minority. I am a Kashmiri Pandit. My home in Jammu was bombed and my relatives were refugees. I know what it's like to go through what happened in Gujarat. I felt so compromised!
People who make such a noise about their creative convictions can be so petty! This gave me the strength to fight. If I had to deal with a righteous man, I'd have to be careful. But if I've to deal with a liar with no principles, then I feel tall.
Though some beautiful documentaries are made in this country, I find some documentary filmmakers' attitude to be arrogant. Some time ago, there was a film festival in Bangalore that was advertised as 'Festival without censorship.'
That was illegal, and was stopped. That bothers these champions of creative freedom. They are trying to trivialise my struggle by calling me a repressive Censor Chief. I may personally feel some censorial rules are oppressive but that doesn't give me the right to go against the book.
Another film Chand Bujh Gaya, based on riots, has also been stopped. I remember an actress in the film claimed that the director asked her to unbutton and display her breast on screen. So much for freedom of expression!
If the present regime believes in that freedom, how come Prakash Jha's film on Jayaprakash Narayan is being stopped? Jayanti Natarajan says it is being evaluated by the normal process. That's what I did with Final Solution. I couldn't see 900 films a year when I was censor head.
Sharma holds me responsible for his film being obstructed. If my spot boy, whom I help financially to get married, he turns around tomorrow and says I harmed him, how would I feel?
Let these docu-makers say what they want. They don't affect me.
You have compared your experience with McCarthyism?
Yes. Today, (CPI-M General Secretary) Harkishan Singh Surjeet feels I share the previous regime's ideology because I was appointed by them. I was appointed because I deserved the post. Now, do I have to go through my life clearing my name?
Surjeet's allegation has to be removed. It Is my right to protect my dignity. Please understand, I am not interested in being Censor Chief again. What did this job give me except controversies? But the way I was sacked smacks of goondagardi!
What do you have to say about Sharmila Tagore taking over the post without informing you?
If I was in her place, I would have called up. It's an unspoken law in the film industry to call up and inform a colleague even when a role is being swapped. But my hurt and anger isn't against her. She hasn't made any statements to date. She is in London. Harkishan is in America.
I'm not fighting them. I'm fighting for the truth. I didn't go to anybody. I'm fighting alone. My disappointment is with Sharma. At least, Harkishan doesn't pretend to be a creative, liberal intellectual. If he can't stand up for the truth regarding one person, how can he be taken seriously while standing up for a whole community? Now, I question his motives for making Final Solution.
Sharmilaji should think ten times before taking this job. If this has happened to me, it can happen to her. But I'm not bitter about my tenure as a Censor Chief. I stood up to vulgarity and sided with films that I believe in. I'm disillusioned by people like Rakesh Sharma but there is hope.
Have your say!
Does Kher deserve the boot?


What do you think about the story?








Read what others have to say:





Number of User Comments: 14








Sub: What's left of the LEFT?

Hi, I dont know whether Kher is right or wrong, or what the exact reasons for his dismissal are. But as an honorable citizen of ...


Posted by sandhya









Sub: it's the present Regime who deserves a boot

It's not kher who deserves the Boot it's the present Regime who deserves a boot. Anupam Kher's ouster on the eve of passing the documentary ...


Posted by Chirag









Sub: surjit CPI and Kher

I think Anupam is right and CPI has no moral authority to link Kher with BJP. From his past history and proximity to communists abroad ...


Posted by vasudev









Sub: Unbalanced

There is incident in Indian History about the great warriors Santaji & Dhanaji. Their heroic deeds were such that the Mughals army was very afraid ...


Posted by sasi









Sub: Unilateral Decision!

I completely agree with Mr. Anupam Kher. Any one in his position would feel aggrieved. Coming under the pressure of communists and so-called liberals (who ...


Posted by Ramnath






Disclaimer