Home > Movies > Interviews

The Rediff Interview / Sourabh Usha Narang

'Vaastu Shastra scares me!'

October 20, 2004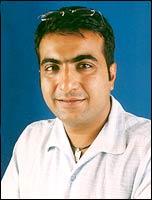 Sourabh Usha Narang's frightening Vaastu Shastra hits the screens on October 22, and, as he solemnly forbids Correspondent Raja Sen to use the word 'horror' in conjunction with the film, the director lets on some scoops about life, cinema, and making movies for a living.
So are we saying hello to yet another Ram Gopal Varma protégé, a 'Factory' product as they are now called?
(grins) No.
Actually, this is my first collaboration with Ramuji. My basic background so far is that of television, with a reality-based show on Sahara Television, Haqeeqat. The show focused on human rights violations, each separate episode heavily researched and re-enacted, with Mahesh Bhatt anchoring the proceedings.
I directed the first 100 episodes, and enjoyed working on a gritty, hardcore, realistic show. It was well appreciated, and among all the awards over the two years that I worked on the show, I'm particularly proud of being the First Runner Up for Best Director at the Asian Television Awards in Singapore.
Mr Varma -- well, actually he just saw my 10-minute show-reel pieced together from the show and told me to come on board and direct a film for him!
How is it working with Ramu? Most contemporary Indian directors worship him as a maverick icon.
I'm a fan, yes. Actually, I am obsessed with realism, and it is something he's worked on, on several levels. He's made some brilliant films, and as far as India is concerned, I think he has seriously revolutionised the way we make movies.
A lot of recent films by a slew of first-time directors have shown obvious 'influences' of the West. Just whom have you ripped off in Vaastu Shastra?
Ah, I'm asked that question a million times! Anyone who has seen the trailer comes up and thinks they've seen the 'original'. Is it The Sixth Sense? Is it The Omen? Is it Child's Play?
No, no, no. A lot of people see a child in a film like this, and automatically it triggers off those names in their head, and they think it's 'inspired'. Which is unfair because a The Sixth Sense isn't another Omen.
I used a child as the central character in Vaastu Shastra because I wanted to very clearly demarcate it from Bhoot, where the ghost was a woman. Also, I think a child in a context such as this is a lot more eerie, a lot more disturbing. The positioning of innocence within its absolute opposite is a thought that itches on a subconscious level, gets under the skin.
Promos are often misleading, and yours have been more like teasers, giving tantalising glimpses but no detailing at all. What is the plot?
I'm not going to say. At this point, all I want to reveal to you before actually watching the film is that it revolves around a family: a doctor wife, a writer husband, and their four-year-old son. They move into this new house, a beautiful place on the outskirts of town, and it seems perfect -- a dream home.
With the parents busy at work -- the mother a doctor and the father having made this move just to gain the tranquil solitude necessary to write -- the holidaying child has tons of free time and adventurously explores his new habitat.
But then he starts seeing things. He tries to tell the parents, but they don't believe him. In time.
Oh, so it's The Shining?
(laughs) I could literally 'see' you dying to ask that. No, it's not The Shining, but I know what you mean: the writer father, the inhabited surroundings, and the child. I'd have possibly come to the same conclusion with the trailers, but let me assure you, its entirely original.
These similarities I agree with, but they are nothing more than plot devices. The concept of the film has nothing to do with the Kubrick film, and yes, the child riding a cycle is a shot that is a bit of a homage.
Why would anybody dare attempt a remake of a Stanley Kubrick film?
Hardly any directors are left sacrosanct anymore. When people try remaking Quentin Tarantino's Reservoir Dogs, it just goes to show the lack of boundaries.
(cringes) That (Kaante, by Sanjay Gupta) was hardly a remake, it… I honestly don't know what it was. Seriously speaking, I wouldn't plagiarise from Hollywood. I've grown up watching these films, admiring them, and I don't want to have to 'borrow' their ideas. World cinema influences us all, but blatant imitation does not make sense, at least to me.
I studied film at Delhi's Jamia Millia Islamia, and we had a good grounding in international cinema. Again, it was the experimentative realists who really appealed to me.
Which brings us to the obvious question: Who are your favourite directors?
Orson Welles. I've watched Citizen Kane 12 times, and I worship it!
I also like Martin Scorcese, Mani Ratnam, Ram Gopal Varma and Shekhar Kapur. As I said, directors who've confined themselves to reality, and often the underbelly. Bandit Queen and Satya are incredible films, and, pressed to choose, Company is my personal favourite among the Ram Gopal Varma films.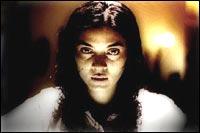 We've come full-circle, back to Ram Gopal Varma. It must be awe-inspiring to work in association with a director you admire so much. How is it working with him as a producer? Does he intervene a lot in the directorial process or give you a free hand?
One thing is a certainty: he lets you dare to think radically. Now I can only speak of my experience with him, and it is isolated in that this is our first project together, and I've never assisted his direction, but me he gave total independence.
He encourages going out on a limb, encourages independent thought. He does get involved in the production process, but then he is the producer! He hardly visited the sets, casually 'dropping by' four, five times, very careful not to interrupt actual shooting.
He doesn't disturb. I'm glad you used the politer word 'intervene' instead of 'interfere'. He gives his inputs very strongly at the time of conceptualisation, and during the editing of the film, but his investment of faith is complete: you do not have to agree with his inputs.
He has been lavish with his praise with Vaastu Shastra, calling it scarier than his own Bhoot!
How does it feel making a horror film? Is it a difficult task to actually scare people?
First things first, I hate using the word 'horror' for this film. In India, the word 'horror' has come to connote a different genre of gory films, like the ones pioneered by the Ramsays. Now, it's all very well to dismiss these films as poorly made and pathetic, but they were outrageously different to anything around them, they worked, and despite debatable aesthetic sensibilities, they were a commendable effort.
But this is different; it's not a 'horror' film, it's a scary film.
And yes, it is extremely difficult to scare people. I think it's important to be subtle, to be suggestive. Overt depiction of horror is simple and graphic and might even work for a scream, but to frighten someone enough to keep them awake at night or think twice while going to the bathroom (evil grin), now there you need the power of suggestion.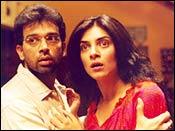 Important elements come in here. Music has always been a big part of successful fear ventures. As has lighting. What's the look-and-feel of Vaastu Shastra?
I agree entirely. It's a 108-minute film, and obviously we don't have songs, but a very effective background score that goes miles in adding layers to the film. I'm a big fan of Japanese films (Ringu, Ju-on) as opposed to Hollywood 'slasher' flicks, and silence is a massive influence in suggesting fear. I've incorporated a lot of nightmarish silence to the film.
It's a film that works on your mood. For example, there is a shot of a character in the film moving about for 15, 20 seconds. It isn't an integral shot in terms of the plot of the film, but why is it there? It's being there suggests that there is more to it. There is a 'what if?' element at play in making a scary movie, and a lot of what's going on inside the audience's brain is not even on screen, its in the peripheral. Therefore, let the camera linger on a few seconds longer.
Yet, it's not a languid film; quite pacy, in fact, but it does have its moments.
Personally, does the film scare you?
Yes! I can't believe it, because I've cut every scene and pieced it all together, but when it all comes together on screen ahead of me, I'm scared as hell. It's strange because I thought I'd lost all objectivity being so close to the project, but it just does.
When shooting the first scene, when I yelled cut, it just sent a bolt of adrenaline down my spine. That became my benchmark for every scene: if it 'works' with me, it'll succeed with the audience.
I don't want to tell people what to expect. I want them to walk into the theatre expecting a million different things, even remakes of movies. Then I want to surprise them. I hate to be didactic here but I'm open to parallel reactions, where the frames take on their own, unintended meanings in the subconscious of the viewer.
It's an extremely scary movie. (grins)
| | |
| --- | --- |
| | More on rediff.com ! |
| | |
What about the cast? You are working with an interesting husband-wife combination, in terms of actors, and the child seems to be pivotal to the film. How was it working with them?
Ehsaas (the child) is absolutely unbelievable! He's four years old, and he's wonderful!
A lot of kids ham -- they see the rolling cameras and they just overplay it all, but he's perfectly natural. It's hard working with kids because they devour multiple takes, which gets taxing on the other actors involved, but Ehsaas was spot on, almost all the time!
And it's not just a kid's role, which is the spectacular bit. He has to act, seriously act, and he pulls it off. It's great. Sushmita Sen and he spent a lot of time together, they bonded even before the shoot, and she grew very attached to him. By the end of the film, she actually went far enough to say that she wanted a son.
Working with Sushmita is a total ball. She's just amazing, and I love the way she adjusts to playing a 'real' character. She's been very experimental in this film, and you're going to see her completely sans make-up throughout. These are things glamourous actresses just don't do -- this is the same woman who's ethereal and stunning in Main Hoon Na, and in my film she's shooting in weird low-light situations. There's an intense glint in her eyes while she's working, you can see she's loving it, and that makes her a complete perfectionist. She's fantastic to work with, and this is possibly her best performance.
Chakravarthy is a complete Ram Gopal Varma-style actor. He's powerfully real, and relatably down to earth. He has a rare quality, one of earnest strength, and he brings this very basic credibility to any project. He makes it believable, which is quite a feat.
What's next for you after this film? Any upcoming projects we should be anticipating?
I'm wide open right now, and looking for fresh ideas and concepts. The only thing I've decided upon completely is not to make another scary film. Well, at least not right now. Never say never. I also say no to the idea of a comedy. It's just not my forte, and I think I'd be inappropriate at it. I'd say good comedies are an incredibly difficult task.
Anyone in particular you'd like to work with?
Its not about star names, I just want to work with actors willing to experiment; with actors who push the envelope to the very limits. Perhaps an Aamir Khan, but then he does make hardly one film a year (wistful smile).
Perhaps that will be your film one of these days. What do you like to watch? Which current Bollywood releases have you really enjoyed?
(long pause) I guess the fact that I'm taking this long to reply answers your question.
What about DVD recommendations? Which are your favourite contemporary films?
I love Christopher Nolan's Memento: that thriller was really fantastic, and kept me glued to the screen throughout. Being John Malkovich is simply sublime, and its director Spike Jonze also features in one of my favourite cheesy action films, Three Kings. An Italian film, Malena, by Guiseppe Tornatore, rates high on my list of classics.
Then there's Y Tu Mama Tambien, a really wild road film by Alfonso Cuaron, which I couldn't get over.
And I still haven't decided whether I adore or abhor Gaspar Noe's shocking Irreversible.
(smiles) I love movies.


What do you think about the story?








Read what others have to say:





Number of User Comments: 12








Sub: Stupid Movie.

Saw the movie with great expectations.. Movie ..is just a utter flop !!! dont waste your time watching this.


Posted by Ani









Sub: Vastu Shastra

I am a die hard fan of Ram Gopal Verma Movies. He is the only director in bollywood who does full justice to horror flicks, ...


Posted by Ritu Ray









Sub: The Grudge?

surprising that he should mention Ju-on. almost gives the plot away for his movie. the makeup for the kid in Vaastushastra is identical to Ju-on(the ...


Posted by sarat









Sub: hi

bugging movie just idiotic but classi


Posted by ANUJ MONGIA









Sub: Vaastu Shatra

I am a die hard fan of Ram Gopal Verma movies his movies specially the thrillers are just amazing i loved his bhoot I believe ...


Posted by Ritu Ray






Disclaimer