Home > Movies > Bollywood News

Rekha is far ahead of Mallika Sherawat!

Lata Khubchandani | October 08, 2004 12:19 IST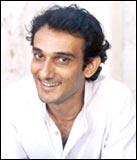 Rekha's latest director, Govind Menon, speaks about the irrepressible Rekha, and working with her in Bachke Rehna Re Baba.
Rekha turning 50?
I don't believe it! She looks nowhere near it!
Working with her is very stimulating.
If you look at her body of work, there is no denying she's definitely one of the greats. In our cinema, there are very few who have that charisma. She has tremendous screen presence, and is extremely dedicated when it comes to work.
In Bachke Rehna Re Baba, she plays Mallika Sherawat's mausi.
| | |
| --- | --- |
| | More on rediff.com! |
| | |
What was interesting was this song with Mallika and Rekha together. While song picturisations are not something I enjoy, this was really cool.
It was a fun song and dance, where two women from different generations dance together. It was amazing because of the way she kept up with -- and was often far ahead of -- Mallika.
That's the simple truth. She was more energetic than the younger girl. She really enjoyed it.


There is a scene where she does yoga, and boy! Is she amazing! She can really do those contortions and splits!
Her body is so flexible that she could put both her feet at the back of her neck -- really fascinating! She's just unbelievable!


What do you think about the story?








Read what others have to say:





Number of User Comments: 4








Sub: Rekha :She is Godess

Can you compare the depth of ocean with the depth of a river???? Can you compare natural beauty of Kashmir with any amusement park??? If ...


Posted by vikas









Sub: Rekha is far ahead of Mallika!!

Ah, one can adore Rekhaji and Mallika? No way !! Rekha's achievement is outcome of her hard work put in since long and Mallika is ...


Posted by Mrs.Medha









Sub: Rekha, a stellar phenomenon

The ever-classic Rekha excelling the latest sensation Mallika Sherawat in the dance scenes, and her facile yogic contortions, her self-made agile & healthy physique ... ...


Posted by U.Atreya Sarma & Laxhmi Rajyam









Sub: Mallika Vs. Rekha

Short and simple : Mallika is "YUCK" while Rekha is "WoW" ("What a Babe!")


Posted by Miss Aruna Gohil






Disclaimer