Home > Movies > Bollywood News

Kiron Kher's film releases in New York


Arthur J Pais in New York | October 08, 2004 11:41 IST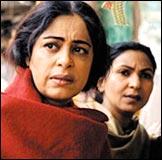 T

heátale about a young Sikh girl abducted duringáPartition, who refuses to kill herself by jumping into a well as per the wishes of many close to her, is the basis of a melodramatic and yet engrossing film Khamosh Pani (The Silent Waters).

The woman not only stays back in Pakistan but also marries her abductor and starts a new life, but never forgetting that she is making her own destiny.

The movie, which also addresses the issue of rising Islamic extremism in Pakistan in the 1970s, features Kiron Kher as Ayesha who is suddenly forced to look at her turbulent past.

Made in Urdu and Punjabi, it has been shown at over a dozen international film festivals, and is being released in New York on Friday through First Run, a boutique distributor.

It will add screens in major cities across North America in the subsequent weeks, hoping to build on word of mouth publicity.
| | |
| --- | --- |
| | More on rediff.com! |
| | |
Khamosh Pani

is directed by Sabiha Sumar (who wrote it with Paromita Vohra), who won the top award at the Locarno International Film Festival last year. The festival had welcomed Lagaan and helped to launch that film's international run.

Sumar's film also won the Ecumenical Jury award at Locarno given to films that have spiritual dimensions. At the Nantes Three Continents festival, it received the audience award for best film.

This is the second desi-themed film to be released recently in America for mainstream consumption.

Touch Of Pink, a gay-themed film about a gay Muslim man and starring Jimi Mistry, is ending its run in North America with a decent $500,000 gross.

Sumar, who is deeply interested in women's issues in Pakistan and elsewhere, has saidáthe film is ultimately about a woman who takes her destiny in her own hands.

In addition to the Golden Leopard Prize to Sumar, Kher was chosen for the Bronze Leopard, the best actress award. She shared it with Diana Dumbrava in the Romanian film Maria and Oscar-winning actress Helen Hunt whose Hollywood film Thirteen also won the third prize in the best picture category at Locarno.

A German, French and Pakistani co-production, Khamosh Pani, was shot in Pakistan.

Shown at film festivals in New York last year, Sumar's film received mixed reviews, with many reviewers faulting the meandering screenplay. It also drew the attention of leftist publications. 'Sumar's debut feature could scarcely be more relevant to Pakistan's present,' wrote Joshua Land in Village Voice, 'or, given this country's history of backing such repressive regimes, to ours.'

'Silent Waters is several different movies,' declared Elvis Mitchell in The New York Times, 'and most of them feel negligible and meandering, until the film finally packs a wallop.'

In the trade publication Variety, Derek Elley wrote: 'Worthy intentions are drowned by schematic scripting and only okay direction in Silent Waters, an achingly PC drama on how Islamic fundamentalism wrecks families and oppresses women.'

Echoing similar thoughts another trade publication, The Hollywood Reporteráfelt 'the forcefulness of its message makes it a rewarding cinematic experience.'