Home > Movies > Theatre

Sakharam enchants New York

Arthur J Pais | November 09, 2004 20:24 IST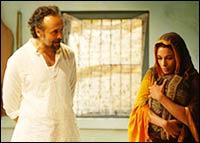 Over 30 years ago many people went to see Sakharam Binder because it was controversial.
Today many New Yorkers are watching the play in a 114-seat theater because it is one of the best shows in town. Those upset with Bombay Dreams' flimsy look at Indian showbiz and social life will find Sakharam Binder an intense and rewarding experience.
The deeply psychological play revolves around a bookbinder called Sakharam, who, while denouncing the hypocrisy of men having sex on the sly, freely indulges in abusing helpless women. The play by Vijay Tendulkar, among the foremost playwrights and scriptwriters (Ardh Satya) in India,  was banned for quite some time.
Tendulkar's play is as disturbing and hard-hitting as it was three decades ago. But it is also, as often, funny. And in the last 10 minutes, it becomes a work of psychological suspense and great irony.
The brilliant production, directed by Maria Mileaf and produced by The Play Company, is a culmination of the month-long Tendulkar Festival sponsored by the Indo-American Arts Council.
| | |
| --- | --- |
| | More on rediff.com ! |
| | |
It features Anna George as Laxmi, a timid and pious woman whose character undergoes a startling change in the end; Sarita Choudhury as the voluptuous woman who succeeds Laxmi as Sakharam's mistress; and Bernard White as Sakharam. Also in the cast are Adam Alexi-Malle as Dawood, a friend of Sakharam, and Sanjiv Jhaveri as Laxmi's pathetic husband.

The show, which was to end on November 14, has been extended till November 20, especially after the rave review it got in The New York Times. 'Tendulkar never judges his protagonist (Sakharam),' wrote The Times, 'but concentrates instead on painting him with unsettling compassion, perceptiveness and thoroughness.His play deserves to be much better known in the United States than it is.'

Sakharam, a bookbinder in a small city in Maharashtra, picks up  women either ditched by their abusive husbands or running away from them. He makes it to clear to them right at the start that he will use them as domestic help and sexual partners.
Each woman is told she is free to leave whenever she likes but as long as she lives with him, she should remember that he is the master of his house. She is also expected to be a wife to him, he insists. If she wants to go away, he will also give her some money (a pittance, actually) and buy them a ticket wherever she wants to go.

"Everything good and proper, where Sakharam Binder is concerned," he  declares. "He's no husband to forget common decency." But his common decency flies fast when he gets abusive and beats up the women. We see him ill-treating Laxmi, one of the two women in the show, without the least remorse.

After he has thrown away Laxmi, his seventh 'wife', or bird as his friend Dawood calls Sakharam's women, the binder brings home Champa. But the fiery and voluptuous Champa is unlike any other woman Sakharam has known in his house. As she begins taming him and almost forcing him into domesticity, she is also aware that she cannot displease him totally. She would allow him to have sex with her only when she is drunk.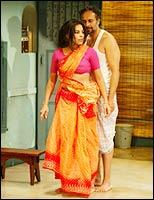 Just when Sakharam is getting tired of Champa, Laxmi walks back into his life, and the already tense house takes a further turn toward the worse. We begin feeling the menace the moment Laxmi is back and Champa lets her stay for couple of days.
Laxmi, not wanting to go back into the wild world, is first shocked and then silently elated when she discovers a secret about Champa, resulting in a scary ending.
In this endlessly complex and fascinating work about the unpredictable nature of the human condition, White majestically captures the eerie pathology of Sakharam.
On one hand, Sakharam wants to please his 'wives'; on the other, he is scornful of them, reminding them the fate of their predecessor. Whether he is extolling the honesty of prostitutes or using his belt to beat up Laxmi or getting drunk with Champa to force himself on her, White goes about his demanding role with quiet authority. He can effortlessly spin a joke a minute, and turn a fiend the next.
As a brash and calculating woman who hasn't lost all her humanity, Choudhury offers a deeply felt performance but she has plenty of competition in Anna George. While George does a very good job of docility despite a few moments of rebellion, she is luminous in her conversations with a blank ant. These scenes are among the best in the show, and it is difficult to rein in the tears at the tenderness George brings to her role.
Though the play is nearly three-hours long, there are just a few dull moments in the second half. Briskly paced for most part, it never ceases to jolt and surprise us, and in the final reckoning, one roots for its one really tragic character.
The producers have announced November 20 as the closing date. But surely they can consider yet another extension?

Sakharam Binder
59E59 Theaters,
59 East 59th Street.
Tuesday through Saturday at 8.15 pm and Sunday at 4 pm.
Tickets, $25, students with ID, $5
www.playco.org