Home > Movies > Bollywood News

Emperor Aamir at Mughal fiasco

Vickey Lalwani | November 05, 2004 19:54 IST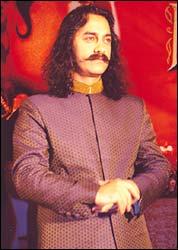 At a function held to felicitate technicians for their tremendous achievement in preparing the legendary epic Mughal-e-Azam for the world's first colourised film's theatrical release this Diwali, things went slightly, well, off colour.
Aamir Khan was the event's chief guest and looked appropriately regal. He was formally bedecked to suit his long curly locks and upturned moustache, a look he's been sporting since Ketan Mehta's upcoming The Rising.
Aamir gushed to the press, "It's amazing that so much work has gone into this classic to convert it into colour. The original negative of the film was not available; they have worked on a duplicate negative, which in turn makes the task doubly difficult. They've separated the mixed mono track and removed the voices of actors and singers and done a remix thereafter."
"I must say Sterling Investments has done a great job in taking on the Herculean exercise. I wish youngsters watch it in theatres. Even those belonging to my generation. My parents are huge fans of this classic. It's a timeless film; it will entertain even today. I am certainly going to see it in a theatre."
As soon as Aamir finished praising Sterling Investments' effort in making the colour version possible and gave away Akbar Asif's (the late K Asif's son, who was not present at the function) cheque worth Rs 1.11 crore to Deepak Salgia (the project co-ordinator), Umar Siddique, managing director of the Indian Academy of Arts and Animation, strode on to the stage.
| | |
| --- | --- |
| | More on rediff.com ! |
| | |
He screamed, "The Indian Academy of Arts and Animation worked relentlessly on this project. The technicians belong to IAAA, not Sterling Investments. Sterling Investments has not done anything on the technical front. It has merely financed the production, it hasn't financed our technology. Why has IAAA's name been blackened out from receiving the honours?

"We created and customised a software that accepts only those colours which match the grey shades of the original and incorporated features for a 35 mm release. This was an extremely complex project, mainly because of the exquisite clothing and the ornate jewellery used in the movie. It took us about 18 months to develop the technology and another 10 months to complete the process. And this is what we deserve -- no mention of our company while the honours are being done! No wonder India is lagging behind. You say you want to honour the technicians but you don't. Abroad, technicians are always placed higher."

Heated arguments between Siddiqui and Hyyat (the late K Asif's nephew who played the host) followed.

When cornered, Hyyat claimed, "Sterling Investments has nothing to do with us. We don't have any vested interest or shares in Sterling Investments. We have not mentioned Sterling Investments on the cheque. The cheque has been made in the name of Deepesh Salgia. As project co-ordinator, he is supposed to take the matter ahead in terms of distributing the amount.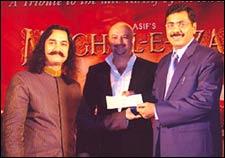 "There are many more people in this project, at least 150, who made the colour version see the light of day. It's not just IAAA. I cannot ask Aamir Khan to read out the full list. We told Deepak Salgia we want to honour the technicians and that's  where our role concludes. Further questions can be addressed to him."
Salgia, strangely, evaded the media.
On the sidelines, Hyyat announced, "Akbar Asif has decided he is going to move into financing Bollywood films. We have still not met any producers. This is our first announcement. We will be looking to support projects which would have an international market."
Aamir Khan looked stunned by the sudden developments. It didn't take him to long to leave. It remains a matter of conjecture as to how long he would have remained if things hadn't taken an ugly turn.
The epic star-crossed love story of young Prince Shah Jahan and the danseuse Anarkali, starring the legendary Prithviraj Kapoor, the smouldering Dilip Kumar and the gorgeous Madhubala, first hit the screens in 1960. The original film, shot by RD Mathur, was largely in black and white.
"It was K Asif's dream to make the film in colour, but since the film had already been long-delayed, he had to bow down to the distributors' demand and release it without any further delay," says Hyyat.
K Asif's Mughal-e-Azam will lock horns with Yash Chopra's Veer Zaara, also said to be a tale of star-crossed lovers, on November 12. Two other Diwali releases will complete for a share of the box-office -- Abbas Mustan's Aitraaz, starring Akshay Kumar, Kareena Kapoor and Priyanka Chopra, and Ram Gopal Varma's Naach, starring Abhishek Bachchan and Antara Mali.
Photographs: Pradeep Bandekar


What do you think about the story?








Read what others have to say:





Number of User Comments: 41








Sub: printing mistake

to whom so ever it may concern. the article mentions the love story of Prince Shah Jahan with Anarkali. its not SHAH JAHAN but PRINCE ...


Posted by nikhil polke









Sub: Don't you proofread your articles ??

It was a love story about Prince Jehangir (Salim) and Anarkali, definitely not about Shah Jahan ... Mumtaz is supposed to have been Shah Jahan's ...


Posted by Ben









Sub: Shah Jahan or Jahangir

Looks like our writer is rewriting history. Salim is Jahangir and its his love for Anarkali which the Epic is all about. So where does ...


Posted by Eswaran Krishnan









Sub: One Error

Mughal-e-azam is Jehangir's love story and not of Shah Jahan. Such factual errors should be avoided in such large scale information dissemination.


Posted by tripti









Sub: Emperor Aamir at Mughal fiasco

Get your facts right. The legendary love story is of Young prince Salim (Later Emperor Jehangir) and Anarkali. Not Shah Jehan. Nobody out there proof-reads ...


Posted by Jyothi






Disclaimer