Home > Movies > Reviews

Hulchul music fails to excite

Sukanya Verma | November 01, 2004 14:34 IST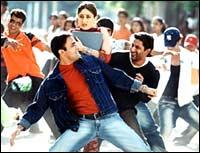 'It's one crazy love story' proclaims the tagline of Priyadarshan's latest comedy, Hulchul.
The director of Hera Pheri and Hungama is at it again with his brand of wit that largely comprises confusion, commotion and camaraderie. Featuring a whole bunch of actors ranging from Akshaye Khanna, Kareena Kapoor, Jackie Shroff, Suniel Shetty to Paresh Rawal, Amrish Puri, Arshad Warsi and Arbaaz Khan, Hulchul is about two sparring families and their never-ending rivalry.
Going by the promos, this one promises to be a treat for the fun-starved.
That said, musically, Hulchul is as exciting as papaya. The six-track music album composed by Vidyasagar is hopelessly disappointing.
It opens optimistically, though. Rafta rafta is instantly likeable, thanks to its playful charm and pleasing tune. This old-fashioned melody is a winner all the way.
| | |
| --- | --- |
| | More on rediff.com ! |
| | |
There is nothing exceptional about Hum dil ke, an insipid romantic duet sung with zero fervour by Shaan and Sadhana Sargam.

 

Breaking the mushy tempo of the album is the raunchy Lut gayee. Item-numberish, it reeks of crude innuendoes like Mat pooch mere sanwariya halat mere joban ki, lut gayi Lanka Ravan ki.

 

Dull, uninspired, and 'fast-forward' are thoughts that come to mind while listening to Ishq main.

 

The usually bankable Hariharan lends his trademark restraint to Lee humne, but his valiant efforts are in vain.

 

Udit Narayan and Kunal Ganjawala infuse zing into the racy Dekho zara dekho, but even they fail to life the album's spirit. 

 

Frankly, one would rather wait for the film.



Want to see this movie? Check out Rediff Movie Tickets!



What do you think about the story?








Read what others have to say:





Number of User Comments: 6








Sub: Hulchul....the movie...the music

Everyone seems so bent out of shape because this movie is a copy....oh well. I enjoyed just about every aspect of this film....the story line, ...


Posted by Frank









Sub: priyadarshan

I think Priyadarshan's forthcoming remakes include those of his 80s' hit films in malayalam : 1. "thalavattam"-with Mohan Lal &Kartika 2."mazha peyyunnu maddalam kottunnu "- ...


Posted by vijith









Sub: CopyCat

Priyadarshan is back with yet another COPY PASTE story this time it is "GODFATHER" a famous malayalam film released in the early 90s and which ...


Posted by sunil









Sub: Priyadarsan at it again

I have not even seen the trailer of this movie but i bet i can tell you the story including the climax. that's because this ...


Posted by mathew









Sub: hulchul:review

priyadarsan has again done it.its a copy of the malayalm film godfather which shows rivalry between 2 families.it is the same situation where the hero ...


Posted by anand






Disclaimer