Home > Movies > Bollywood News

Know more about Hindi cinema

May 27, 2004 16:46 IST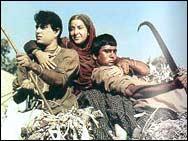 It is hard to imagine Bollywood films without colour. But most films from the first one, Raja Harishchandra, in 1913 to the late 1950s, were made in black and white.
Introducing colour was a very long and tedious journey, says Indian Cinema: The Bollywood Saga, a joint writing effort by Dinesh Raheja and Jitendra Kothari.
"In 1960, only one colour film, Angulimala, was made. By the close of the decade, colour films finally became the norm. But for the film industry, it was a long march from monochromes to GevaColor, Eastmancolor and Technicolor," mentions the book.
"In 1933, V Shantaram made an elementary experiment in colour while shooting an episode from the Mahabharata in the film Sairandhiri. The film was processed in Germany," say Raheja and Kothari, former editor and deputy editor of Movie magazine.
Having pioneered the talkie in India, Imperial Studio's Ardeshir Irani wanted to be the first to bring colour to the Hindi screen. He experimented with it in Kisan Kanya in 1937. His second attempt, Mother India (1938), was more successful. Actress Pramila mentions that she was hired to supervise the colour correction of the film. Mehboob Khan processed this ambitious Technicolor film in London.
The film's heroine Nadira remembers the trial and error methods used for this experiment: "They shot on 16mm, which was to be blown up to 35mm. They lavished much red makeup on us thinking that it would become pink when it was blown up (like it happens in a balloon), but it only resulted in our faces looking bright red."
The most successful from the handful of colour films made in this period was Jhanak Jhanak Payal Baje (1955). But V Shantaram went back to black and white for his next film, Do Aankhen Barah Haath.
In the late 1950s, hits like Asha, Chaudhvin Ka Chand, and Mughal-e-Azam were intrinsically black and white films, but certain songs and scenes were shot in colour.
Waheeda Rehman remembers the unit's irritation when Chaudhvin ka Chand's title song was reshot in colour. "By the end of the shoot, we were jokingly humming Chaudhvin ka chand ho ya sada hua kamal ho," she says.
It was the thumping success of colour films like Junglee and Ganga Jamuna, released within a month of each other in 1961, which finally affirmed the ascendancy of colour.
The year 1964 was the first in which over 10 Hindi films were made in colour, says the book, adding, "the photographic stylisations that range from monochrome colour to modern-day tones in Shyam Benegal's Bhoomika (1976) provide an incidental but eloquent history of colour in Hindi films.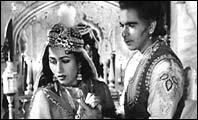 "The Hindi film industry started with Raja Harishchandra in 1913. By the end of this century, it had grown into a creative and financial behemoth with the intervening decades witnessing technological innovations that were to change the face of the film industry," says the book.
Today, Bollywood produces over 100 films a year and entertains millions around the globe. The book documents this incredible story of Hindi films, taking the reader on a chronologically charted odyssey through each epoch of this historic and dramatic journey analysing the benchmarks of the vibrant changes that marked each passing era.
Indian Cinema: The Bollywood Saga by Dinesh Raheja and Jitendra Kothari. Published by Roli Books, Rs 1,975. Pages 155
© Copyright 2006 PTI. All rights reserved. Republication or redistribution of PTI content, including by framing or similar means, is expressly prohibited without the prior written consent.



What do you think about the story?








Read what others have to say:





Number of User Comments: 2








Sub: ok but not required

Well, the information in the article is historical and informative. One should understand that Hindi cinema is not exactly equal to Indian cinema. Indian cinema ...


Posted by srijagadeesh









Sub: cinema is time waste

Though cinema is a great entertainment and leisure and its a big buissness in india, but if we see the other side of the coin, ...


Posted by amit saxena






Disclaimer