Home > Movies > Bollywood News

Carnegie Hall's tribute to Ustad Vilayat Khan

Arthur J Pais | May 21, 2004 14:51 IST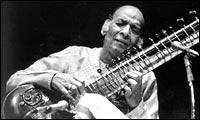 When Ustad Vilayat Khan performed for the first time at the famous Carnegie Hall in New York a few years ago along with many Indian classical musicians, he was so overwhelmed that he announced during the concert that World Music Institute, the organisers of the event, should invite him again to perform at the same venue.

"He was an artist of astounding talent," Robert H Browning, executive and artistic director of WMI, recalled recently. "We were all looking forward to his concert at Carnegie Hall on May 22."
When Vilayat Khan died in March, WMI and co-sponsor Carnegie Hall decided to use the evening to pay tribute to the master.

"He cannot be replaced," Browning said, "but he has been grooming his sons who have performed with him at many concerts. Now they will get a bigger recognition."
The concert is appropriately called Passing on a Tradition.

Vilayat Khan revolutionised sitar performance through his introduction of gayaki ang (vocal style), the most imitated sitar style in the world today, according to Browning. His sons Shujaat Khan and Hidayat Khan represent the seventh generation in an unbroken line in a family that has produced many musical masters, Browning said.

WMI, which has been presenting a raft of Indian instrumental and vocal artists since its inception about two decades ago, had a hugely popular and critically acclaimed show on May 15, when Zakir Hussain mesmerised over 1,200 music lovers at Town Hall in New York City.

"I have been carrying on the tradition that started when my father [Ustad Alla Rakha] and I started over a decade ago, to bring artists from different parts of India under one roof," Hussain told rediff.com. The show, which has been presented in half a dozen cities, continues its tour across North America. It also featured Hussain's brothers Fazal and Taufiq Qureshi.

The rhythmic fireworks on May 15 were presented in the Hindustani and Carnatic traditions on the ghatam (clay pot) by T H Vikku Vinayakram. The other musicians were, Fazal Qureshi (tabla), Taufiq Qureshi (percussion), Vijay Chauhan (folk drums), Ustad Sultan Khan (sarangi), Manipuri Jagoi Marup, the dancing drummers, and the duo of Ganesh and Kumaresh.

The next few months will see WMI present a number of concerts and a photo exhibition to mark its two decades. The not-for-profit organisation presents over 70 concerts per year in New York City, bringing artists from over 50 countries. It also organises tours and workshops throughout North America by visiting artists from Africa, Asia, Europe and Latin America.

"Many artists have been brought to the United States for the first time by us," Browning said. "And for people like Zakir Hussain and Vilayat Khan, we have always been a part of their musical family."

Members of World Music Institute enjoy many benefits, including reduced admission rates. Check www.heartheworld.org for more details.

Passing on a Tradition: Tribute to Ustad Vilayat Khan
Shujaat Khan and Hidayat Khan with Vijay Ghate
Saturday, May 22, 2004
Zankel Hall at Carnegie
7th Ave and 57th Street
$50, $38/ WMI members $45, $33