Home > Movies > Bollywood News

Sreekar Prasad on editing a bilingual

Sreekar Prasad | May 20, 2004 16:13 IST



With six National Awards under his belt, editor Sreekar Prasad is inarguably one of the best in India.
His last National Award was for the Mani Ratnam's Kannanthil Muthamittal.
Prasad tells Shobha Warrier how he edited Mani Ratnam's new bilingual.
Mani Ratnam's film is about three different characters belonging to different strata of society. We chose different editing styles for each character. The character played by Madhavan [essayed by Abhishek Bachchan in Yuva] is erratic and unpredictable. So I used lots of cuts to make him look as unpredictable as possible. That way, we could give more energy to his personality.
On the other hand, the character played by Surya [Ajay Devgan in Yuva] is more of an idealist. He is little more steady- paced compared to Madhavan. I didn't go for many edits or cuts. Whatever cuts I had for him were not fast.
The third character played by Siddharth [Vivek Oberoi in Yuva] is totally different from the other two. He is young and wants to enjoy his life. He is very modern too. We have lots of fast motion for him. What you may call 'ramping', which is actually controlling the motion of the shot.
Normally, shooting is done at 24 frames [per second]. Wherever we wanted to push the narration, we went for a higher speed for this character. In the song sequences, we pushed it ten times faster. I have tried to bring this sort of speed in editing too. Of course, when all three are there in a frame, we could not stick to one type of editing.
The editing pattern is the same for both languages. They shot one language first, then the other. Sometimes, it would be Tamil first. Sometimes, Hindi.
When I edited the first version, I had an idea of what the second version would be like. While shooting the next language, they [makers] didn't redo it. They always improvised on it. Both versions are quite similar because the story is the same. The editing pattern was more or less the same for both the languages [Hindi and Tamil].
I have worked with Mani Ratnam in his last two films, Alai Payuthey and Kannanthil Muthamittal.
As a director, he [Ratnam] gives you a lot of freedom to create an edit pattern. He gave me some wonderful material to work on. It was great fun to get the desired effect. To a great extent, we have achieved a good edit pattern for this film.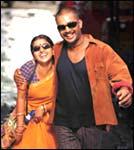 Alai Payuthey was a love story. It only had a couple of characters. Kannathil Muthamittal was about a girl in search of her mother.
In this film [Aayitha Ezhuthu and Yuva], there were more characters and three protagonists. So, it was definitely much wider in scale. There was more variety and scope for me to work.
I particularly enjoyed editing the sequence for the song Dhol, picturised on Madhavan. It is [a] rap [number]. The director was trying to tell a story through the song. It had to have the energy of a song and convey the story. It was a challenge editing it [Dhol].